In today's economy, packaging is an important factor in product promotion strategy and brand affirmation. Because this is one of the factors that determine the attention and choice of products of consumers. A product with eye-catching packaging, outstanding colors and sharp print quality has dominated in "pleasing" customers. Therefore, choosing a quality packaging factory is very important. Viet Packaging Production Application Investment Co., Ltd (Vipaco) is pleased to introduce to you our company.
Vipaco's 15-year journey
2006 was the time when the packaging industry began to have an impact on our country's economy. Packaging enterprises were gradually formed during this period. However, to get to this day, not every business can stand firm.
15 years of development (since 2006) is a sufficient number to show the solid development steps of Vipaco. Getting to where we are today is a journey and our customers are the source of our energy to keep growing.
Vipaco is the leading packaging manufacturing company in Vietnam. We specialize in the field of packaging production and supply all kinds of thin film packaging. The industries we supply include: food bags, Zipper bags, agricultural mulch, drawstring garbage bags, pet cleaning bags, PE shrink film, lake lining film….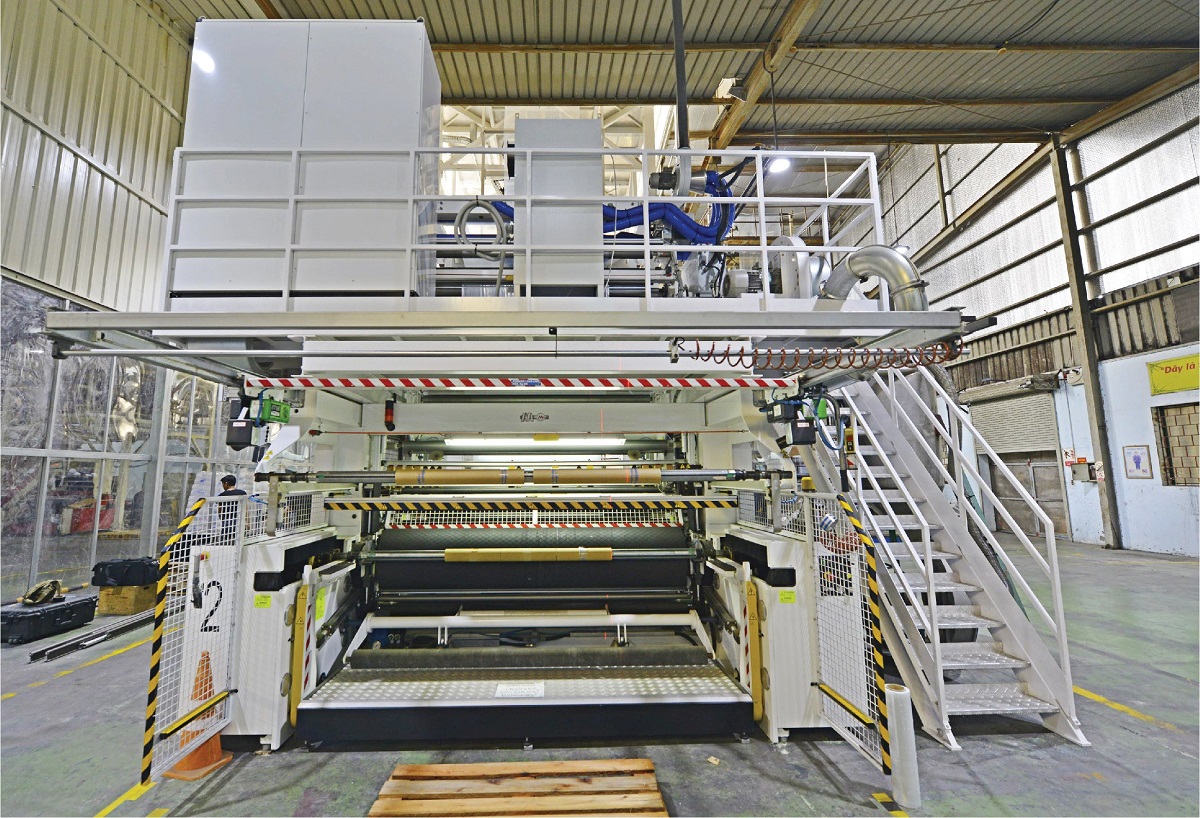 Vipaco always focuses on investing in production lines and technology
Vipaco's technology line
Through each year with different stages of development, Vipaco's packaging factory is constantly improving production technology lines to better suit the times and needs of customers. Modern machinery lines combined with high technology help our packaging factory always create many quality packaging products.
In order to ensure that the products reach customers with the best quality, the equipment, machinery and production lines are 100% new imported by Vipaco from Germany, Taiwan, Italy, including: High-speed single-layer blower. high, EVOH 5-layer blowing machine, roll cutting machine line, Taiwan heat cutting machine, automatic garbage bag folding cutting machine, automatic printing machine, roll dividing machine, high quality T-shirt bag cutting machine line, Machine Stretch Film 5 layers…
Production machinery is equipped with the most advanced types of Vipaco today
Start asserting the brand
Along with advanced technology, raw materials are imported by Vipaco from big companies of Japan, Thailand, Korea and the US. All of them go through a rigorous quality control process before being put into production.
Outstanding, eye-catching printing colors, clear brand logo, print quality, good packaging production. Those are the highlights of the products we create. Vipaco promises to bring consumers the perfect choice in terms of form and quality product combination inside.
Packaging produced by Vipaco must fully meet different standards
In addition to modern and advanced production lines, Vipaco packaging factory also has more than 500 engineers and skilled and experienced workers. We always work seriously to be able to create the best quality products.
Safe for consumers and friendly to the natural environment
This is the top goal that Vipaco sets out when producing and printing packaging. We always try to bring packaging products with good print quality, competitive price but always ensure safety for users and friendly to the environment.
Our achievements in this field are important international certifications. That is:
Quality management system- ISO 9001 standard;
Environmental management system- ISO 14001 standard
Energy management systems- ISO 50001 . standard
Social responsibility standard- SA 8000 . standard
Management Standard 5S
Vipaco packaging factory
Why should you choose Vipaco as your companion?
Look no further for a quality packaging factory, because Viet Packaging Production Application Investment Co., Ltd (Vipaco) is your ideal choice. We understand the needs of our customers and quickly grasp the current market situation. Therefore, Vipaco always invests and develops modern production lines. At the same time, the staff is always learning new knowledge to enhance the reputation of the company.
As a result, the packaging products we create are always of good quality at a good price and make many customers satisfied. So what are you waiting for, contact us right away. For more information, please contact Vipaco via the following portal:
Viet Applied Investment For Packing Production Co., Ltd (Vipaco)
Address: D1 Road, Pho Noi A Industrial Park, Giai Pham Commune, Yen My District, Hung Yen Province
Fax: (+84.2213) 967.781
Email: vipacoltd@vipaco.vn