Vipaco today has made great changes in both its scale, stature and position in the packaging production field. During the 15-year journey of construction and development, the "sweet fruit" that Vipaco has gained is a product that has conquered 3 major export markets, namely Japan, the US and Europe. Above all, however, the most cherished achievement is the trust of partners and customers for Vipaco from the motto "Survival for quality".
Vipaco- Aspiration to bring the Vietnamese brand to the international market
Vipaco's predecessor is Tan Hoang Anh Co., Ltd., established in 2002 in Hanoi. Then, to be more suitable with the production situation, in 2006 the company started construction of factory No. 1 on an area of ​​5800m2 in Giai Pham commune, Yen My district, Hung Yen province, marking the birth of the company. Investment and Packaging Production Application Company Limited (Vipaco). This step has become an important premise, creating conditions for Vipaco to expand its market and reach out to conquer international markets.
At present, Vipaco's packaging products are not only well received by domestic consumers but also widely popular in major export markets in Japan, the US & Europe by meeting quality management standards. environmental protection and integrated ISO standard; Honored to be awarded the Certificate of Merit by the Minister of Industry and Trade – Enterprise "Excellent achievements in project implementation – Improving productivity and quality of products and industrial goods" with many awards has another value.
Mr. Nguyen Tuan Anh – Vipaco General Director received Certificate of Merit from the Minister of Industry and Trade
Mr. Nguyen Tuan Anh – Vipaco's General Director shared: "Packaging production is a super competitive industry, new businesses that want to survive and thrive in this industry need to assert quality and create differentiated values. product. To make this difference, after researching, Vipaco has decided to invest in modern technology lines, 100% imported from Taiwan, Japan & Italy to create high quality products with high quality. European export standards and friendly with the environment … Especially during the research process that biodegradable plastic packaging products will be a sustainable solution to reduce plastic waste in the environment, Vipaco has focus on developing this product line into a strategic product line… and have received the trust of consumers ". Therefore, despite the starting point as a small-scale enterprise, focusing on production for the domestic market, facing difficulties in all aspects, Vipaco has always focused on product quality. The first products of Vipaco appearing on the market are T-shirt bags and Shopping bags, which have quickly won the trust of customers, creating money to solidify Vipaco's development in the future. Up to now, Vipaco's products have established a firm position in both domestic and international markets. Especially popular in 3 major markets in Japan, America and Europe.
Multi-layer blowing machine line made in Europe at Vipaco factory
Vipaco- Constantly investing in people, technology, improving product quality
During the 15 years of construction and development, Vipaco has always devoted great resources to innovating technology, equipment and machines, and improving product quality. In 2008, Vipaco invested 250,000 USD in Taiwan and China technology lines, in 2009 invested in new 100% new machinery and imported from Europe, Japan & Taiwan and in 2016 continued to invest 12 million. USD to build factory No. 2 with an area of ​​15000 m2. Therefore, Vipaco currently has a leading modern system of equipment lines and technology in the field of packaging production, fully meeting the needs of the market. Along with technology investment, Vipaco also focuses on investment in developing high quality human resources for management and production; Technical improvement movements, thrift practices and waste-fighting practices were regularly maintained by the company.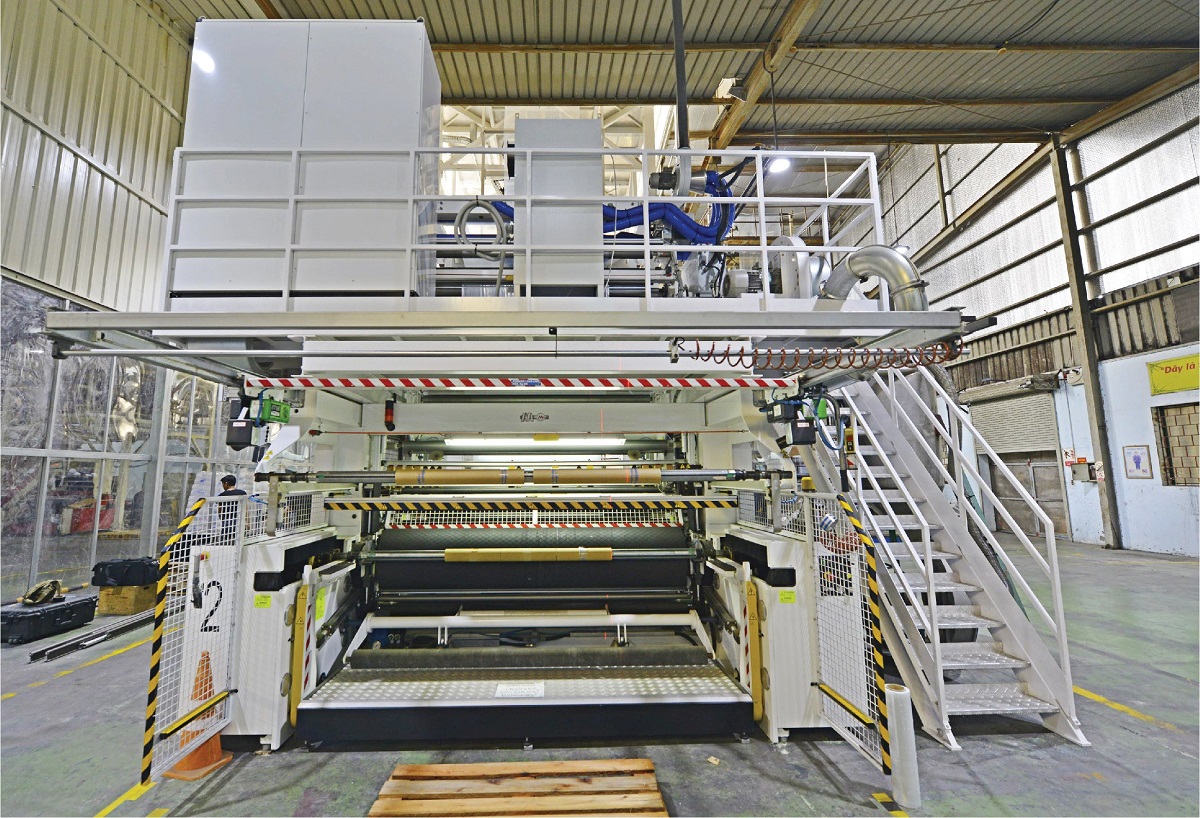 A 15-year journey of persevering effort, with innovative steps and the right development strategy, Vipaco has made spectacular long strides, confidently asserting its position of Vietnamese brand in the international market. That achievement affirms the strong breakthrough of Vipaco gained from the brainpower, from its pioneering efforts and especially from the inheritance and promotion of the solidarity tradition of generations who have been devoted to creating Vipaco. To this day, that pioneering torch still burns in the hearts of millions of Vipaco packaging people. On one hand, from the leadership team to each Vipaco officer and employee, they use innovation as a driving force for rapid and sustainable development.