Investing in a modern, high capacity packaging factory is also a measure to improve the corporate reputation and customer confidence. Vipaco Packaging continuously improves product and service quality, working schedule thanks to owning advanced machines, meeting all customers' needs.
How does packaging factory affect the quality of goods?
The variety of goods on the market today makes the need for more complex preservation. Therefore, the packaging factories have to create many products with structure, characteristics, size,…. suitable for the needs of different businesses.
Packaging directly affects product quality
To ensure the quality of packaging and preservation, right from the selection of materials, production stages also need to be strictly and carefully examined. Packaging manufacturers should understand the mechanical, physical and chemical properties of the goods in order to choose the right material. In which, the packaging factory must ensure the following factors:
Durable stuff
Does not react mechanically, physically or chemically with the product inside
Suitable for the size and characteristics of the goods
Always strictly tested
So, if a packaging factory doesn't have enough machines or uses outdated technology:
Has an unprofessional workflow
Products are born poor quality, not aesthetic
It is not possible to carry out the bulk orders or if there are, the products are also inconsistent in quality
Does not meet the preservation needs of many different goods
Vipaco – Prestigious and quality packaging factory
Vipaco has been equipped with a lot of modern production machines with large capacity to meet all requirements of customers in fields such as agriculture, industry, chemicals, construction, … updating the trend of most advanced packaging production technology today, bringing customers the best experience of high quality packaging products with European standard quality.
Vipaco has over 15 years of experience in the packaging manufacturing industry, ensuring quality, quantity and on-time delivery. Our advanced machines are 3-layer blowing machine, high-speed single-layer blowing machine, EVOH 5-layer blowing machine, roll cutting machine line, automatic trash bag folding machine, automatic printer, coiling machine, high quality T-shirt bag cutting machine line, 5-layer Stretch Film Machine … ensure the most stable productivity and product quality.
In particular, 100% of machines and production lines at Vipaco are imported directly from famous brands from Germany, Taiwan, and Italy and operate in accordance with strict German and Japanese production processes.
+ 3 layer ABC blowing machine, origin from Europe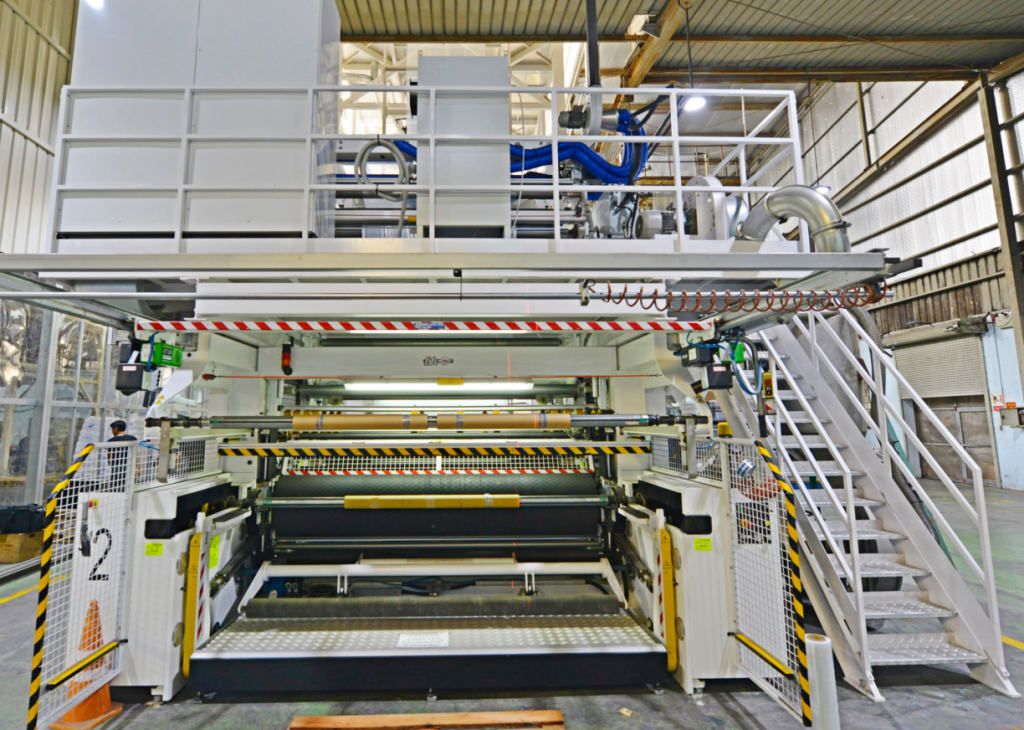 ABC Vipaco 3-layer blower imported complete unit from Europe, the machine is integrated with top quality electric equipment with high efficiency motor, stable operation, saving power consumption. The machine is designed to produce packaging sizes from 1000 mm to 2400 mm, quality products suitable for both domestic and export markets in Europe, Japan & America.
+ High speed single layer blowing machine, imported from Taiwan, size from 200mm to 500mm, thickness from 10 mic to 100mic.
+ EVOH 5 layer blowing machine imported from Europe, gauge from 600mm-1600mm, automatic quantitative weighing; automatic thickness control; automatic roll collection
Vipaco packaging factory possessing advanced technology and professional operation will produce high quality and synchronous products in large quantity. Vipaco Packaging is proud to be the leading unit in the field of plastic packaging production with fifteen years of experience, always providing businesses with impressive, quality designs at economical prices. Contact us for a free consultation.