Are you looking for a reputable and professional plastic packaging production company for long-term cooperation and development together? Are you in need of help so that your brand can fly high and fly away? Would we be honored to be your companion in building and developing your brand?
Vipaco- 15 Years of experience in packaging production
We are a company that produces and applies Vietnamese Packaging (Vipaco). Established in 2006 by leading experts in the field of plastic packaging production. The original purpose of establishment is not profit, profit is just a necessary factor for us to fulfill a higher purpose, which is: Bringing good values ​​to customers' brands through through the packaging industry. To do that, we bring our MIND and LOVE into the products we make. That is evidenced by the meticulousness in each ink color, writing and image that we create on each product.
Packaging plays an important role in brand development
Vipaco takes the customer's branding process as its own brand. Products and services of customers after using our packaging become more famous, more developed… that also shows that we work effectively. The proof of our prestige and professionalism is you – The customers who have used our products. So coming to us you will be treated like family, and we are building the brand together, not you hiring us to do it.
Why should you choose Vipaco Viet Packaging?
Currently, there are many packaging companies that make you wonder which company to choose to cooperate with. Is Vipaco a place worth trusting, "choosing to send gold"? Before making a decision on which company to choose, let's take a look at the reasons why you should choose Vipaco to see if we are right for you.
Modern machinery and production lines
If you are looking for a company that produces quality packaging- Food bags, freezer bags, supermarket T-Shirt bags, agricultural mulch… choose Vipaco. Here, we invest in modern machinery imported from advanced countries in the world to bring outstanding packaging production technology, high quality and fast delivery time.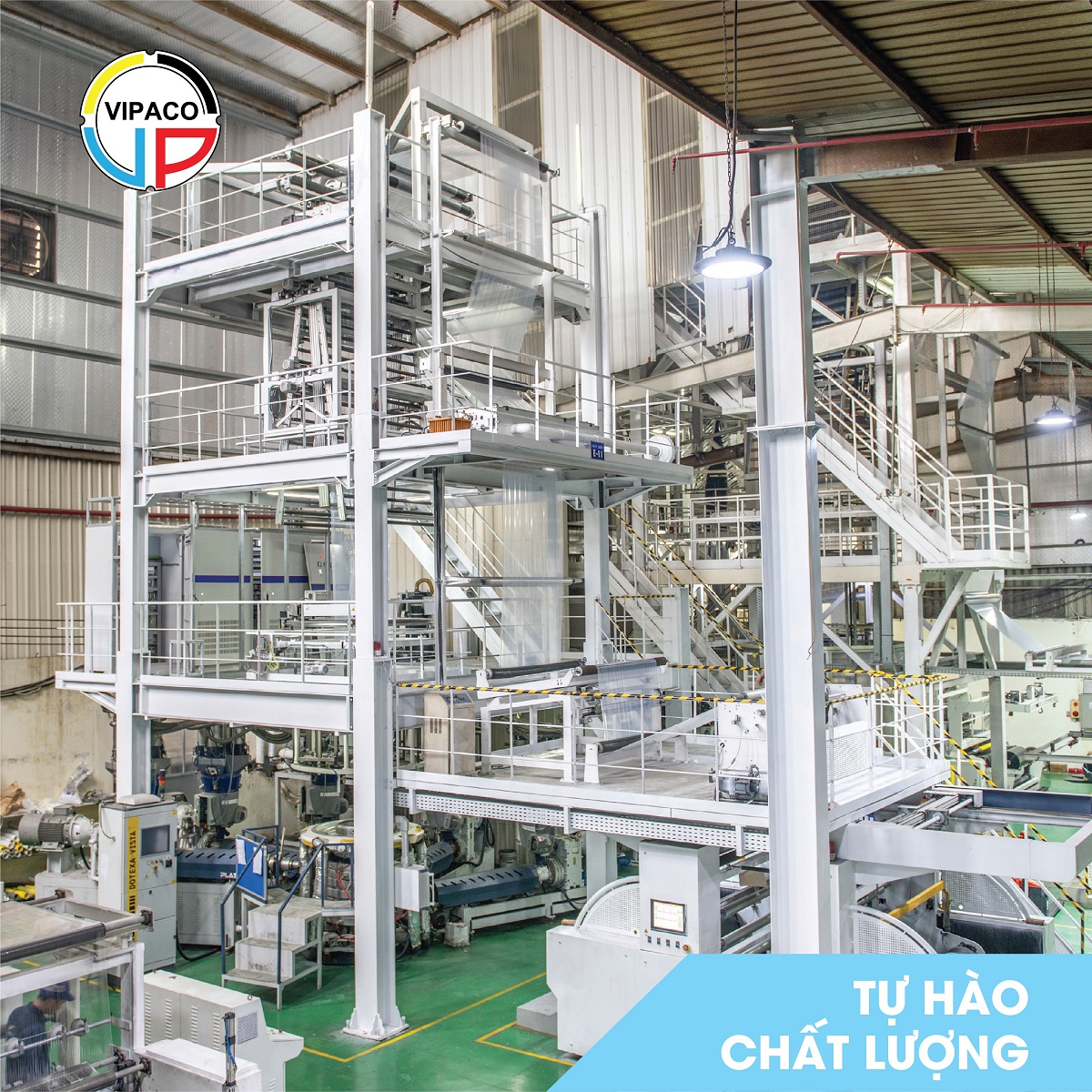 With a leading position in packaging production in Vietnam, Vipaco has constantly researched and improved its production capacity. For sustainable and stable development, the company especially focuses on core values, packaging solutions to maximize business efficiency and protect the environment.
Vipaco continuously improves modern production lines to bring the best quality packaging products. These equipments can be mentioned as 3-layer blowing machine, high-speed single-layer blowing machine, 5-layer blowing machine EVOH, roll cutting machine line, automatic garbage bag folding cutting machine, automatic printing machine, roll dividing machine , high quality T-Shirt bag cutting machine line, 5-layer Stretch Film machine….guarantee the most stable productivity and product quality.
In particular, 100% of machines and production lines at Vipaco are imported directly from famous brands from Germany, Taiwan, Italy.
High quality input production materials
High quality raw materials are completely imported by Vipaco from advanced countries such as the US, Singapore, Korea, Japan, etc. Besides, we also always stock a stable source of goods to meet the needs of the market. market and world change. As a result, Vipaco can continuously supply goods and ensure a price stabilization policy for customers within 6 months to 1 year.
Vipaco Packaging is recognized with many international certifications
Vipaco Packaging has been honored to receive many certificates of merit, many international certificates affirming its prestige and standard brand. Specifically:
ISO9001 standard quality management system
ISO14000 standard environmental management system
ISO 50001 . standard energy management system
Social responsibility standard SA8000
Management Standard 5S
Large scale production plant
Vipaco gives customers trust thanks to its reputation for product quality and on-time delivery. Not only has a dedicated and highly skilled staff, but Vipaco Packaging also operates on a large scale, modern production lines to meet the expectations of the number of products that customers require.
Currently, Vipaco Packaging is operating 2 factories with a total capacity of 2200- 2500 Tons/Month
Factory 1: Focusing on production for the domestic market- Scale of 5,600m2,
Factory 2: Focusing on production for export market- Scale of 15,000m2

Vipaco factory with an area of ​​25,000m2 contributes and meets the increasing demand of the market
Thank you for learning about Vipaco. If you decide to choose and accompany Vipaco, contact us today. Our staff is ready to serve and answer all customer questions 24/7 via hotline 0221 376 7968.
Viet Applied Investment For Packing Production Co., Ltd (Vipaco)
Address: D1 Road, Pho Noi A Industrial Park, Giai Pham Commune, Yen My District, Hung Yen Province
Fax: (+84.2213) 967.781
Email: vipacoltd@vipaco.vn