Produced on modern production lines, imported materials, in line with domestic and international quality standards, over the past 15 years, Vipaco packaging has become the choice of consumers and hundreds of thousands of businesses in and foreign.
Modern production lines
Vipaco packaging factory with an area of ​​more than 25,000 m2 is located at D1 street, Pho Noi A Industrial Park, in Giai Pham commune, Yen My, Hung Yen province with the main product lines are food bags, bags frozen, agricultural mulch film, PE shrink film, waterproof film, drawstring garbage bag; zipper bag, supermarket T-Shirt bag…
With the goal of producing the best quality products to serve the market, from the very beginning, Vipaco has invested in a whole new modern production line according to European technology from advanced markets in the plastic industry such as Germany. , Italy, Japan, Taiwan,…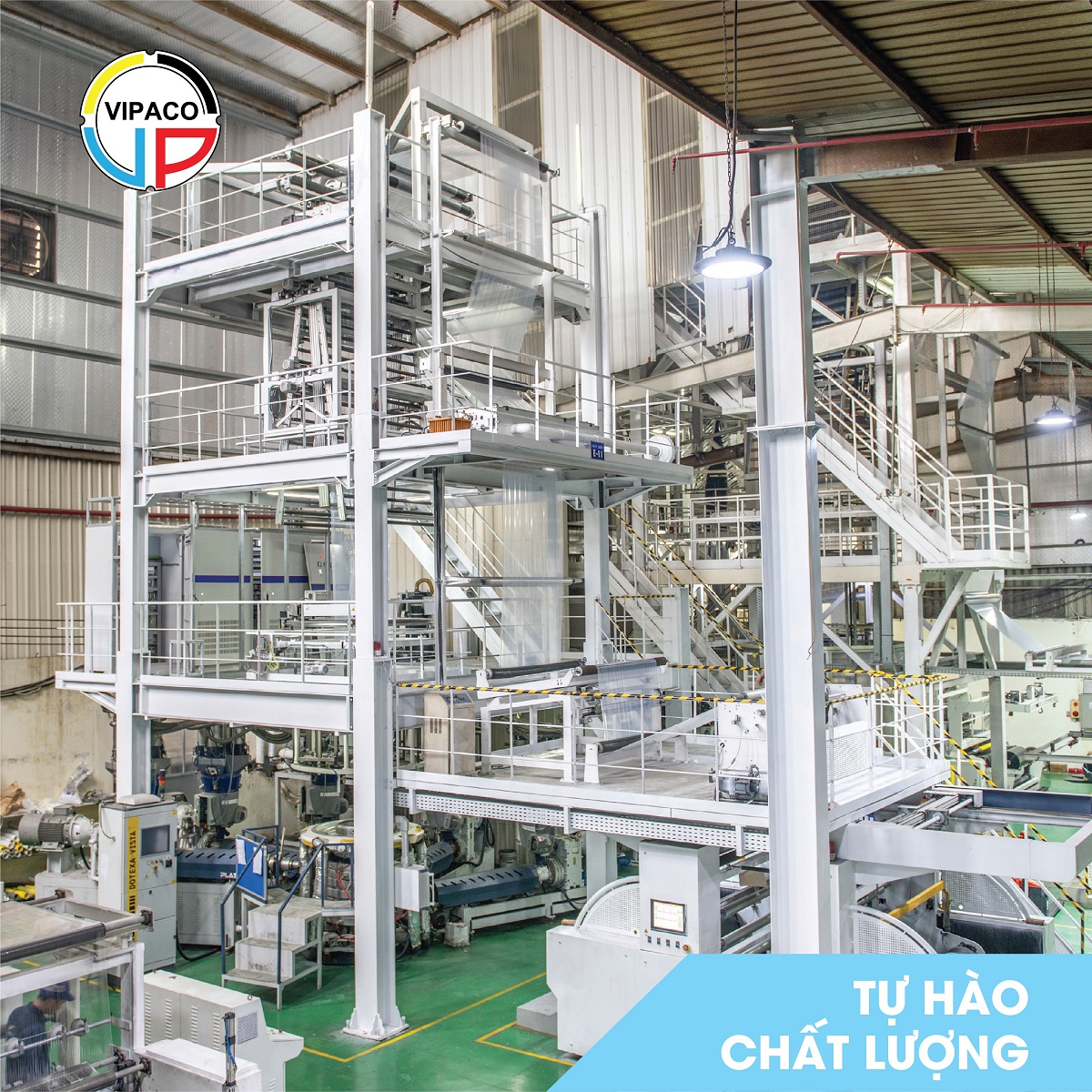 Vipaco packaging factory is invested in synchronous production line according to European technology
Along with investing in a modern production line system, Vipaco built factories No. 1 & No. 2 with a total capacity of 2500 Tons /month on an area of ​​more than 25000 m2, meeting quality and safety standards for goods production. leader of the packaging industry. Therefore, Vipaco packaging products have many competitive advantages in price, variety in size, meeting all the needs of customers.
Vipaco's factory has more than 500 skilled engineers and technicians, mastering and mastering the most modern production lines of the most modern packaging production technology in the world. A team of experienced engineers, controllers and monitors, supervises the production process to the smallest detail to ensure that each product always meets the quality and technical standards committed to customers.
Vipaco has always maintained the trust of its partners during the past time such as: VINGroup, Huu Nghi Confectionery, Nem Fashion, Kinh Do Confectionery, JP Corelex VN, Trung Son, Mascot, May Hung Dung , Chemical 13, Horison Hotel, LiOA Company…
Technological innovation and modern machinery lines have helped Vipaco packaging products always ensure the uniformity between product batches, bringing the best quality to users.
Imported raw materials
The source of raw materials is one of the criteria that determines the quality of plastic packaging. Accordingly, the source of clean raw materials "primary plastic", with clear origin, not mixed with additives or recycled plastic, produces safe, non-toxic and eco-friendly plastic packaging products. environment. Packaging made from primary plastic has the advantage of strength and toughness.
Vipaco packaging products are manufactured from primary plastic particles, imported from the world's leading suppliers.
With the criterion "Quality is survival", protecting the health of consumers, protecting the environment, Vipaco packaging products are manufactured from 100% primary plastic particles, imported from suppliers. the world's leading supplier to produce quality products, safe for consumers, and environmentally friendly.
Conforms to Vietnamese and international quality standards
Applying the quality management system ISO 9001: 2015, 1 process 5S, Vipaco always ensures stable product quality. All packaging produced at Vipaco is committed to having smoothness, attractive images, clear text, colors, and designs in accordance with customer requirements.
With outstanding advantages in technology, people and youth of the staff, in recent years Vipaco packaging products have been the first choice of many domestic and foreign partners and businesses.
Vipaco packaging is the first choice of domestic and foreign enterprises.
Thanks to its persistent efforts, Vipaco has received many proud international certificates:
Quality management system- ISO 9001 standard;
Environmental management system- ISO 14001 standard
Energy management systems- ISO 50001 . standard
Social responsibility standard- SA 8000 . standard
Management Standard 5S
When there is a need to produce high quality bags, Vipaco packaging is the choice that customers should not ignore. Contact Vipaco immediately for detailed advice and specific quotation. We are committed to bringing you experiences that exceed your expectations, prestige and quality always come first. Our plastic packaging products are always quality tested for durability before being put into mass production and shipped to customers.
Any questions, please contact Vipaco directly via Hotline 0221 376 7968 Our staff will be ready to answer your questions.
Viet Applied Investment For Packing Production Co., Ltd (Vipaco)
Address: D1 Road, Pho Noi A Industrial Park, Giai Pham Commune, Yen My District, Hung Yen Province
Fax: (+84.2213) 967.781
Email: vipacoltd@vipaco.vn