Vipaco is one of the leading companies in the field of packaging production in Vietnam based on its investment in technology, people and products. With European quality products such as food bags, garbage bags, zipper bags, pet cleaning bags, PE shrink film, agricultural film … Vipaco has quickly established its position in the market. domestically and constantly reaching out to the international arena.
Vipaco's predecessor is Tan Hoang Anh Co., Ltd., established in 2002 in Hanoi. Then, to be more suitable with the production situation, in 2006 the company started construction of factory No. 1 on an area of ​​5800m2 in Giai Pham commune, Yen My district, Hung Yen province, marking the birth of the company. Investment and Packaging Production Application Company Limited (Vipaco). This step has become an important premise, creating conditions for Vipaco to expand its market, reaching out to conquer international markets.
Vipaco products are favored in the market
At present, Vipaco's packaging products are not only well received by domestic consumers but also widely popular in major export markets in Japan, the US & Europe by meeting quality management standards. environmental protection and integrated ISO standard; Honored to be awarded the Certificate of Merit by the Minister of Industry and Trade – Enterprise "Excellent achievements in project implementation – Improving productivity and quality of products and industrial goods" with many awards has another value.
During the 15 years of construction and development, Vipaco has always devoted great resources to innovating technology, equipment and machines, and improving product quality. In 2008, Vipaco invested 250,000 USD in 6-color printing technology line from Taiwan and China. In 2009, Vipaco aimed at the Japanese market, invested in a new 100% machinery line imported from Europe, Japan & Taiwan. Loan and 2016 continue to invest 12 million USD to build factory No. 2 with an area of ​​15000 m2. Therefore, Vipaco now has a leading modern system of equipment lines and technology in the field of packaging production, fully meeting the needs of the market.
The advanced machines that Vipaco owns such as 3-layer blower, high-speed single-layer blowing machine, EVOH 5-layer blowing machine, roll cutting machine line, automatic garbage bag folding machine, machine automatic printing, coiling machine, high-quality T-Shirt bag cutting machine, 5-layer Stretch Film Machine … ensure the most stable productivity and product quality.
In particular, 100% of machines and production lines at Vipaco are imported directly from famous brands from Germany, Taiwan, and Italy and operate in accordance with strict German and Japanese production processes.
+ 3 layer ABC blowing machine, origin in Europe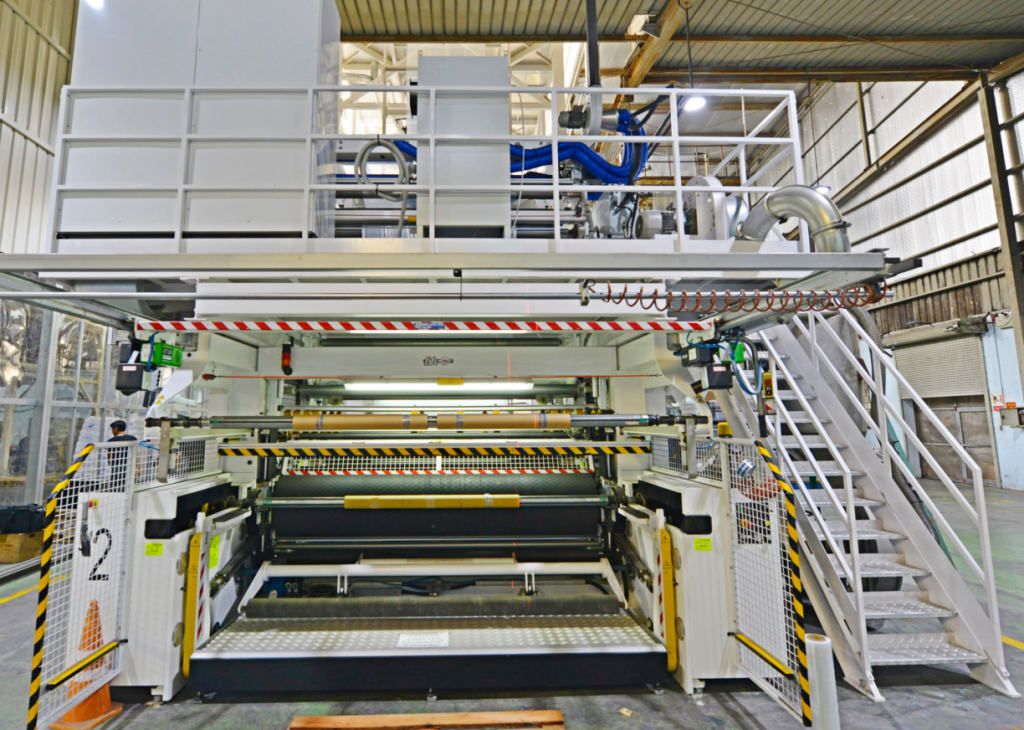 ABC Vipaco 3-layer blower imported complete unit from Europe, the machine is integrated with top quality electric equipment with high efficiency motor, stable operation, saving power consumption. The machine is designed to produce packaging sizes from 1000 mm to 2400 mm, quality products suitable for both domestic and export markets in Europe, Japan & America.
+ High speed single layer blowing machine, imported from Taiwan, size from 200mm to 500mm, thickness from 10 mic to 100mic.
+ EVOH 5-layer blowing machine imported from Europe, gauge from 600mm-1600mm, automatic quantitative weighing; automatic thickness control; automatic roll collection
Reputable international certificate
Vipaco is confident to be the best company in the field of packaging production with more than 15 years of experience. Along with that, Vipaco ensures that products produced to consumers are the most complete and highest quality.
Thanks to its persistent efforts, Vipaco has received many proud international certificates:
Quality management system – ISO 9001;
Environmental management system – ISO 14001 standard
Energy management system – ISO 50001 standard
Social responsibility standard – Standard SA 8000
5S management standards
Vipaco Packaging is proud to be the leading unit in the field of plastic packaging production with fifteen years of experience, always providing businesses with quality packaging products with the best prices. Contact us for a free consultation.
Viet Applied Investment For Packing Production Co., Ltd (Vipaco)
Address: D1 Road, Pho Noi A Industrial Park, Giai Pham Commune, Yen My District, Hung Yen Province
Fax: (+84.2213) 967.781
Email: vipacoltd@vipaco.vn