Which packaging manufacturer is most trusted today? This must be the question of many businesses when looking for a reputable, quality packaging manufacturer with good prices. Or simply, if you are a new business that wants to assert your brand in the market, Viet Applied Investment For Packing Production Co., Ltd (Vipaco) is the perfect answer that you are looking for.
The potential of the packaging industry today
It can be seen that at present, the printing and packaging manufacturing industry in the domestic market is very active. This is one of the fastest growing industries in Vietnam. Because this is an industry closely related to the activities of consumption, export of goods, the food industry and many other groups of industries.
According to statistics, there are currently nearly 3,000 printing and packaging production establishments nationwide. In which, Vipaco is one of the most potential and reputable packaging manufacturers not only in the North but all over the country.
Certainly, plastic packaging has been a very familiar image to today's consumers. Packaging appears everywhere, from supermarkets, convenience stores, markets, … For consumers, the packaging is just a container, protecting the product. But for businesses, packaging is an important factor in promoting their brands and products.
Packaging manufacturing process
In your opinion, what is a reputable packaging manufacturer?
At Viet Investment and Packaging Manufacturing Application Co., Ltd, you will find quality answers to one of today's most trusted packaging manufacturers.
At Vipaco, the packaging production process always complies with standards. Here, we have a modern line of machines that are always improved to match the pace of the current technological process. All to meet the needs of a quality and reputable product.
The production process of Vipaco packaging includes the following basic stages:
Packaging production: The packaging is printed and produced with the most suitable and quality materials for the needs of each product. On the most modern production line today.
Product Quality Control: This is the most important step. Before the product is delivered to the customer, the quality of the product will be strictly checked and comply with the standards set by the Ministry of Health.
Handing over products: Products will be shipped to customers as quickly as possible.
Choosing Vipaco is a form of companion, why not?
There are more than 3,000 packaging manufacturers nationwide, but how many packaging manufacturers are there for the long term? 15 years of experience is the number that confirms Vipaco's slow but steady steps on the way to conquer brand reputation.
User-friendly packaging and environment
Although today, more than 95% of customers look at the appearance of the packaging to choose a product. A quality packaging product, however, isn't just about good design. At Vipaco, we pay attention to and care about "clean" packaging, packaging that does not harm the health of the user as well as the environment. These are the issues we are always trying to make sure of.
Highly qualified and dynamic staff
In addition, we have the strength of a team of skilled, dynamic, experienced and highly qualified staff who are quick to grasp the psychology and needs of customers in coordinating to create. a most suitable product.
Modern facilities
Viet Nam Packaging Manufacturing Application Investment Company Limited, one of the leading packaging manufacturers in terms of technology. Accordingly, we use modern equipment such as: 3-layer blower; high speed single layer blowing machine; EVOH 5 layer blowing machine; roll cutting machine line; automatic garbage bag folding cutting machine; automatic printer; high-speed T-shirt bag cutting machine line; Stretch Film Machine 5 Layer …
Along with the investment in modern production lines, Vipaco has built manufacturing factories No. 1 & 2 with a total capacity of 25,000 MT / month on an area of ​​more than 25,000 square meters, meeting quality and production safety standards. top of the packaging industry. Currently, in order to fully and promptly meet the needs of packaging for the domestic and export markets, Vipaco's management has decided to build manufacturing factory No.3 with a design capacity of 1000 tons / month and is expected to will be in operation in the last month of 2021.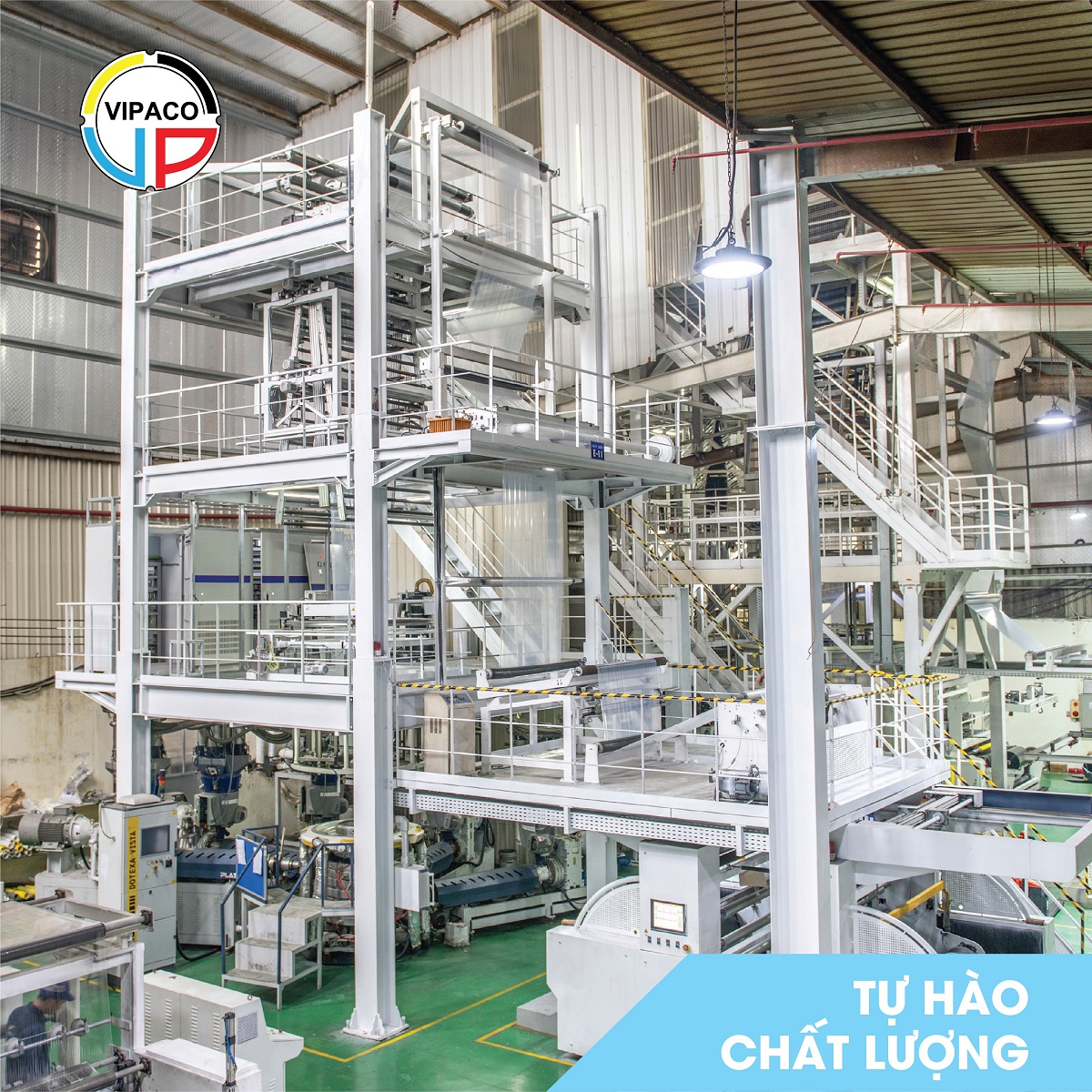 Production machinery is equipped with the most advanced types available today
All these efforts have paid off with many proud achievements:
Quality management system – ISO 9001;
Environmental management system – ISO 14001 standard
Energy management system – ISO 50001 standard
Social responsibility standard – Standard SA 8000
5S management standards
With a quality and reputable packaging product, we have been and continue to be on the way of asserting our brand and being the place to bring customers the best products. Thanks to that, Vipaco has always been a co-partner of many businesses today.
If you are looking for a reputable packaging manufacturer in the North, Viet Applied Investment For Packing Production Co., Ltd  is pleased to be a reliable companion on the development path of our customers. Contact us on hotline 0221 376 7968 for support.
Viet Applied Investment For Packing Production Co., Ltd (Vipaco)
Address: D1 Road, Pho Noi A Industrial Park, Giai Pham Commune, Yen My District, Hung Yen Province
Fax: (+84.2213) 967.781
Email: vipacoltd@vipaco.vn