In order to meet the increasing tastes of consumers, the packaging requirements of businesses in the market today are becoming more and more stringent. Accordingly, more and more quality packaging products with unique and beautiful designs create sympathy for users. And of course, in order to create good products, production units need to invest in a modern and professional production line technology system. Find out with Viet Vipaco Packaging below!
Vipaco's modern production technology line
With a leading position in packaging production in Vietnam, Vipaco has constantly researched and invested in technology to improve production capacity. Vipaco continuously improves modern production lines to bring the best quality packaging products. These equipments can be mentioned as 3-layer blowing machine, high-speed single-layer blowing machine, 5-layer blowing machine EVOH, roll cutting machine line, automatic garbage bag folding cutting machine, automatic printing machine, roll dividing machine , high quality T-Shirt bag cutting machine line, 5-layer Stretch Film machine….guarantee the most stable productivity and product quality.
In particular, 100% of machinery and production lines at Vipaco are imported directly from famous brands from Germany, Taiwan, Italy and operate in accordance with strict production processes of Germany and Japan.
Some models at Vipaco factory:
+ 3-layer ABC blower, made in Europe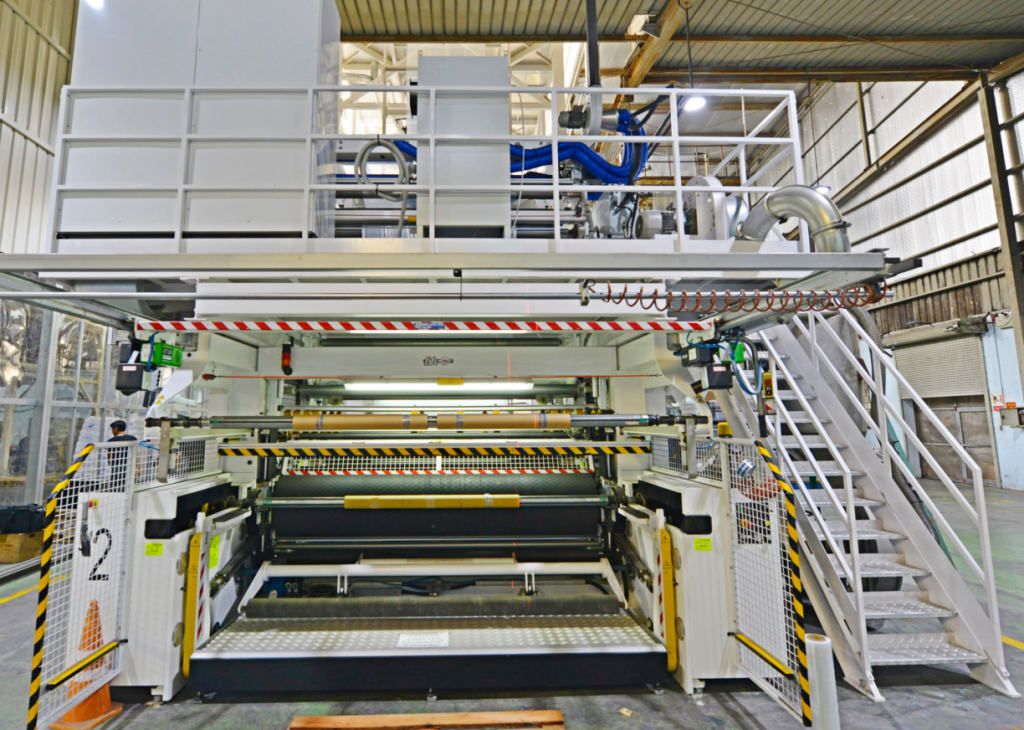 ABC Vipaco 3-layer blower is imported CBU from Europe, the machine is integrated with top quality electrical equipment, high efficiency motor, stable operation, saving power consumption. The machine is designed to produce packaging sizes from 1000 mm to 2400 mm, quality products suitable for both domestic and export markets to Europe, Japan & America.
+ High speed single layer blower, imported from Taiwan, size from 200mm to 500mm, thickness from 10 mic to 100mic.
+ European imported EVOH 5-layer blowing machine, size from 600mm- 1600mm, automatic quantitative weighing; automatic thickness control; automatic roll collection
Find high quality packaging manufacturers- Choose Vipaco
It is no coincidence that Vietnamese Vipaco packaging has received a lot of attention and choice from businesses/organizations/individuals in today's market. The reason is because:
Supplying quality raw materials for production
High quality raw materials are completely imported by Vipaco from advanced countries such as the US, Singapore, Korea, Japan, etc. Besides, we also always stock a stable source of goods to meet the needs of the market. market and world change. As a result, Vipaco can continuously supply goods and ensure a price stabilization policy for customers within 6 months to 1 year.

Vipaco raw material warehouse is arranged according to 5S standard
Achieve proud international certificates
With over 15 years of operation in the field of packaging production, Vipaco has been receiving many international certificates for the following proud product quality:
Quality management system- ISO 9001 standard;
Environmental management system- ISO 14001 standard
Energy management systems- ISO 50001 . standard
Social responsibility standard- SA 8000 . standard
Management Standard 5S
Especially in December 2020, Vipaco was honored by the Minister of Industry and Trade – Enterprises with excellent achievements in implementing the project "Improving productivity and quality of industrial products and goods". This certificate of merit is a noble reward recognizing the non-stop efforts of Vipaco's leaders, staffs and the support and trust of customers and partners.
The noble Certificate of Merit from Vipaco- Enterprise: "There have been excellent achievements in implementing the project "Improving productivity and quality of industrial products and goods".
Produce quality packaging at a good price
Vipaco receives packaging production according to customers' requirements, and at the same time ensures to advise customers on the quality packaging that best suits the nature of the product. Especially, we will guarantee the best price for customers.
When customers come to Vipaco packaging, they can be assured of both price and product quality. Because Vipaco's motto is sustainable cooperation with partners, continuously increasing the value of cooperation between the parties.
Therefore, if you are looking for a high-quality packaging manufacturer, quickly contact Viet Vipaco packaging for advice and a more specific quote.
If you have any questions, please contact Vipaco directly via Hotline 0221 376 7968 Our staff will be ready to answer your questions.
Viet Applied Investment For Packing Production Co., Ltd (Vipaco)
Address: D1 Road, Pho Noi A Industrial Park, Giai Pham Commune, Yen My District, Hung Yen Province
Fax: (+84.2213) 967.781
Email: vipacoltd@vipaco.vn