Not only is Vipaco a reputable packaging company in the Vietnamese market, but Vipaco also constantly strives to reach out to the world market with export orders of thousands of tons of packaging each year, becoming a customer, for Strategic cooperation for hundreds of thousands of businesses in the 3 major markets of Japan, the US and Europe with high quality products, meeting strict principles in environmental protection.
Packaging company dominates Vietnamese market
Starting from aspirations, during 15 years of operation, Vipaco packaging manufacturing company has constantly improved on machinery and equipment to produce environmentally friendly green products that are loved by consumers and businesses. trusted partner.
Vipaco's eco-friendly, biodegradable garbage bags
As one of the leading packaging manufacturing companies in Vietnam, Vipaco is always committed to the quality, value of products and progress for every project in order to increase brand recognition and image of individuals and organizations. . Therefore, Vipaco has always maintained the trust and love of its partners during the past time such as: VINGroup, Friendship Confectionery, Nem Fashion, Kinh Do Confectionery, JP Corelex VN, Trung Son, Mascot, etc. Hung Dung Garment, Chemical 13, Horison Hotel, LiOA Company…
Vipaco- The leading packaging company in Vietnam's exports
Not only dominating the domestic market, Vipaco company has reached out to the big sea, gradually occupied many large markets, is strict about product quality and strict in environmental protection principles like Europe, It is thanks to the timely improvement of technology as well as the application towards environmentally friendly biodegradable products, safe for users thanks to a closed process. The printer has good quality to help the printed plastic packaging samples look beautiful, not damaged and affected by the external environment.
Machines and production lines at Vipaco's factory
In particular, the packaging company Vipaco always meets all the needs of customers in terms of types, designs, materials, and designs. Effective to promote brands and services closer to consumers.
All packaging produced at Vipaco is committed to having smoothness, attractive images, clear text, colors, and designs in accordance with customer requirements. During the past years, Vipaco has constantly improved and comprehensively innovated to serve and meet the most rigorous standards of quality and environmental protection principles of the big players in the international market.
Vipaco always ensures to comply with the rules that it sets forth, perfecting from the selection of the best raw materials to the synchronous production process to bring safe packaging to users and make positive contributions to customers. more positive for the environment.
International Certificates
Above are the shares about Vipaco packaging production company. Vipaco is confident to be the best unit today in the field of packaging production with more than 15 years of experience. Along with that, Vipaco ensures that the products produced to consumers are the most complete and best quality products.
Thanks to persistent efforts, Vipaco has received many proud international certificates:
Quality management system- ISO 9001 standard;
Environmental management system- ISO 14001 . standard
Energy management systems- ISO 50001 . standard
Social responsibility standard- SA 8000 . standard
Management standard 5S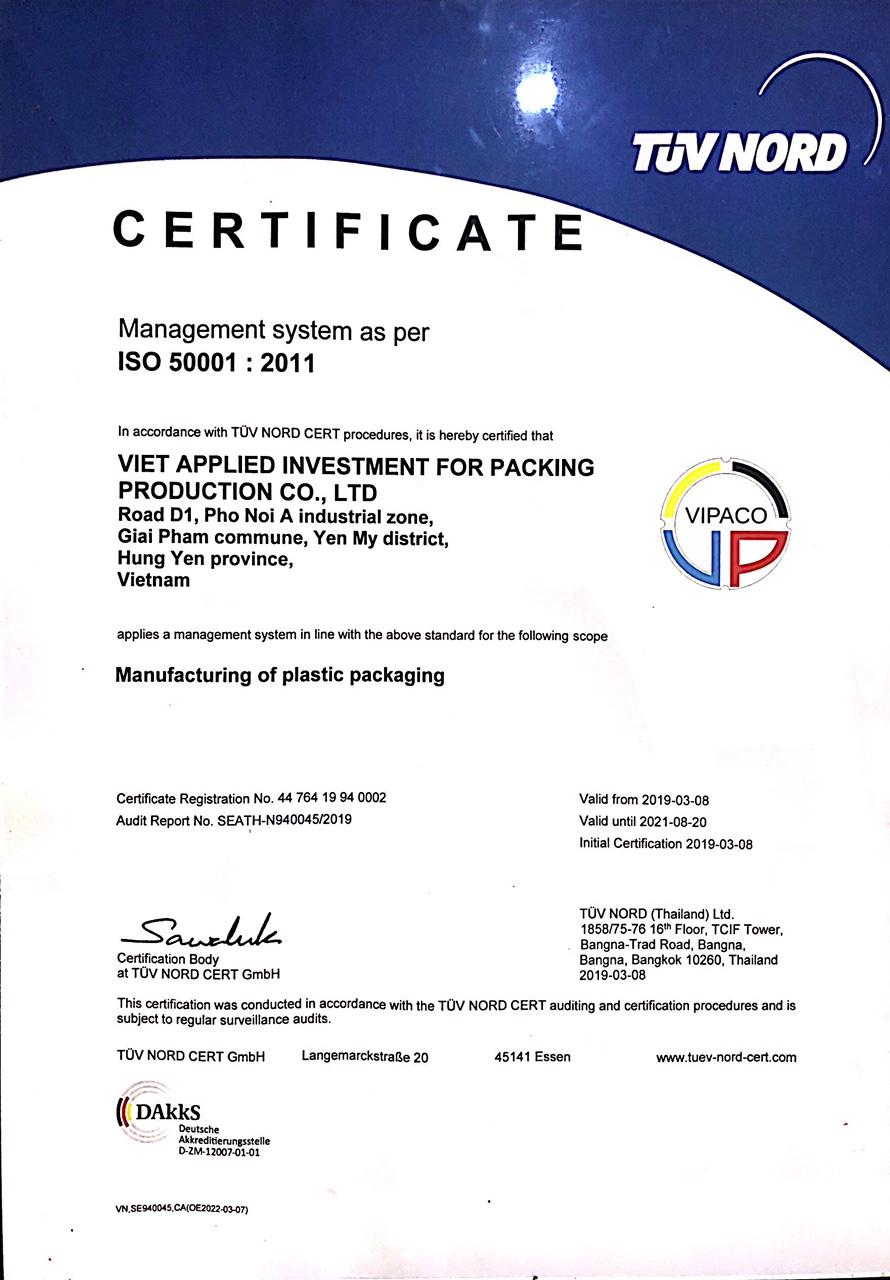 When there is a need for packaging design and high quality printing, Vipaco packaging company is the choice that customers should not ignore. Contact Vipaco immediately for detailed technical advice and specific quotation. We are committed to bringing you experiences that exceed expectations, prestige and quality always come first. Our plastic packaging products are always quality tested for durability before being put into mass production and shipped to customers.
If you have any questions, please contact Vipaco directly via Hotline 0221 376 7968 Our staff will be ready to answer your questions.
Viet Applied Investment For Packing Production Co., Ltd (Vipaco)
Address: D1 Road, Pho Noi A Industrial Park, Giai Pham Commune, Yen My District, Hung Yen Province
Fax: (+84.2213) 967.781
Email: vipacoltd@vipaco.vn