It is no coincidence that Vipaco garbage bags are a popular brand among consumers in the three major export markets of the US, Japan and Europe as well as the domestic market today. Not only being a prestigious name in the packaging industry, the quality products and services Vipaco brings to consumers are the reasons why this brand has a prestigious and lasting position in the eyes of consumers. client.
Here are the reasons that users love to choose Vipaco garbage bags through surveying customers who have used them.
Product line of European quality standard drawstring garbage bags at Vipaco
1. Vipaco is a reputable brand
The first thing to bring products to consumers is the "brand" of the supplier. Upon entering the market, the products quickly gained market share, received favor and trust from customers thanks to their quality and design.
Using a reputable brand will bring more trust to users when choosing products. But branding is not created quickly, it takes time. With 15 years of experience in the packaging industry, Vipaco is proud to be the leading manufacturer and supplier of quality packaging products in Vietnam with outstanding strengths:
Check out some of the international certifications that Vipaco Packaging has received
Vipaco Packaging is always your reliable partner and gives customers the best value. In response to our efforts, we receive the attention and support of our customers. At the same time, the competent authorities also recognize what Vipaco Packaging brings. The most obvious proof is the international certifications:
Quality management system- ISO 9001 standard;
Environmental management system- ISO 14001 standard
Energy management systems- ISO 50001 . standard
Social responsibility standard- SA 8000 . standard
Management Standard 5S
Vipaco packaging factory with an area of ​​​​25,000m2 contributes and meets the increasing demand of the market
Advanced, modern machinery combined with modern technology
Vipaco Packaging not only improves the skills of employees but also invests in modern machinery to bring products with the best quality.
– 3-layer blower
– High speed single layer blower
– EVOH . 5-layer blower
– Roll cutting machine line
– Automatic garbage bag folding cutter
– Automatic printer
– Roll splitter
– High quality T-Shirt bag cutting machine line
– 5-layer Stretch Film machine….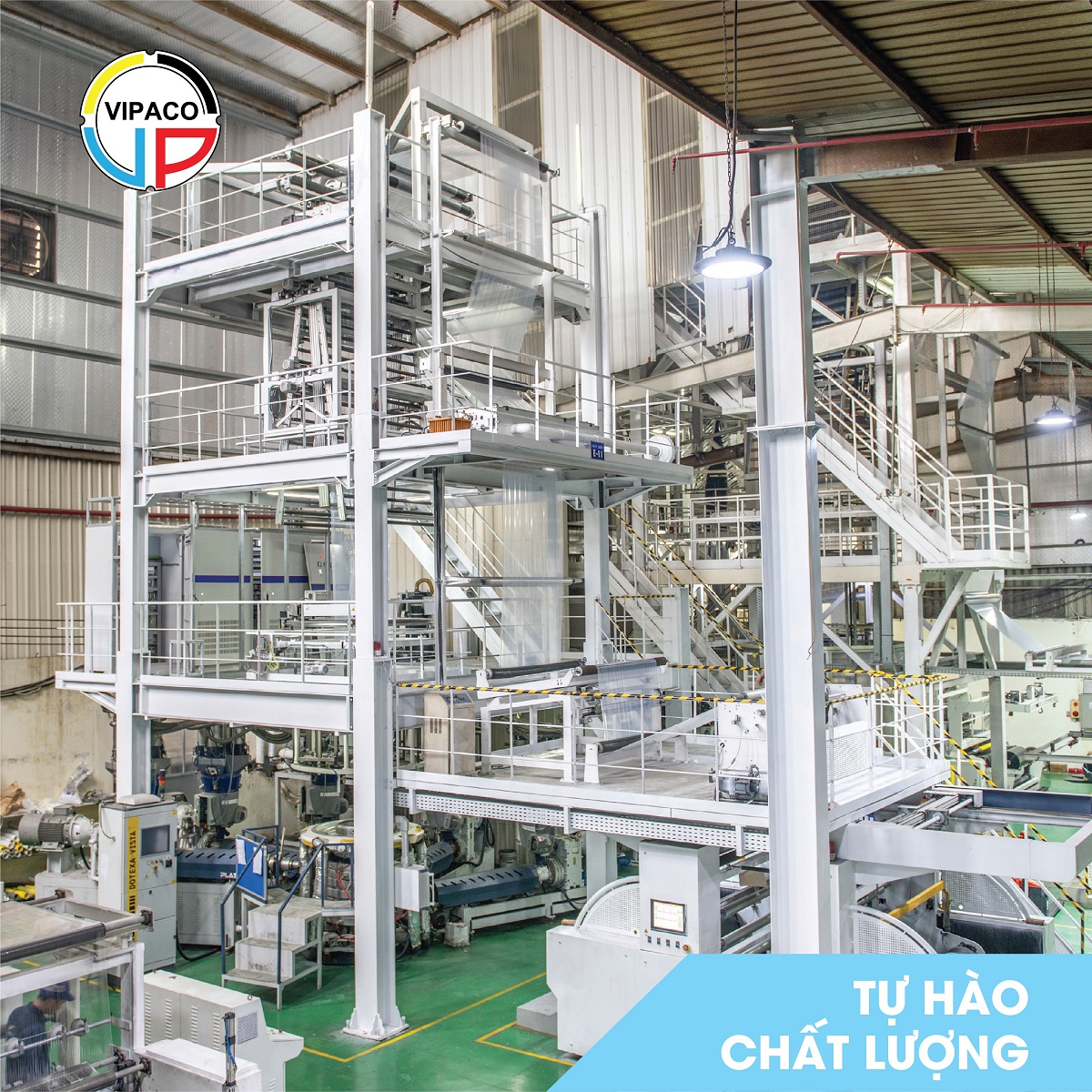 Production machinery is equipped with the most advanced types of Vipaco today
2. Vipaco products have good quality and variety of designs
Product quality is a basic factor for customers to choose products of an enterprise. Vipaco ensures that over 95% of customers are satisfied with the quality of packaging produced by Vipaco. In particular, all Vipaco packaging products are meticulously designed and manufactured through each stage to create the best quality products.
Not only bringing good quality, diverse designs and designs are also things that Vipaco is interested in. Satisfy all fastidious customers, conquer the most demanding guests.
This can be seen because Vipaco's product portfolio has hundreds of different product lines, from food bags to frozen bags; Zipper bag; Supermarket T-Shirt bag; membrane to waterproof membrane, agricultural mulch… Only the Vipaco garbage bag product line has dozens of designs, serving different purposes and different users.
3. Reasonable price
Customers today are very wise people, they will only spend the amount of money they think is right for the value of the product to buy. With Vipaco, cashew products are provided with good quality and reasonable prices. That is the reason that Vipaco brand is reputable in Vietnam market.
Above are the 3 most important reasons why Vipaco packaging has created such a strong position for consumers. With constant efforts and efforts, Vipaco will surely improve more and more in product quality, price… to bring consumers the best products at the most affordable prices.
Viet Applied Investment For Packing Production Co., Ltd (Vipaco)
Address: D1 Road, Pho Noi A Industrial Park, Giai Pham Commune, Yen My District, Hung Yen Province
Fax: (+84.2213) 967.781
Email: vipacoltd@vipaco.vn