Packaging- An essential and very important item in everyday life, we can see packaging in convenience stores, street food restaurants, to supermarket chains, … Packaging is the container of the product. and above all, it is also a tool to promote the brand of the business.
It can be said that for Vietnam's economy to participate in regional and international integration, increasing exports to the world has a very important contribution to the packaging industry. And Vipaco is proud to be one of the packaging companies contributing to the new face of the current market economy.
Let's take a look at Vipaco's achievements over the past 15 years in this article.
Development path of Vipaco
With more than 15 years of experience, a number is not too long, but it is enough to say the process of operation and rise to confirm its name in the market.
Since 2002, established under the name of Tan Hoang Anh Company Limited, is the precursor of Investment Company Limited Manufacturing Production Packaging Viet. Then in 2006, we started the phase 1 factory on an area of ​​5,800 square meters and officially marked the birth of Vietnam Packaging Application Investment and Investment Co., Ltd. (Trade name in English Viet Applied Investment For Packing Production Co., Ltd – Abbreviation Vipaco). Right from this is a worthy number for a newly established business.
From 2011 up to now, we have made a long development in the process of changing production technology with modern technical facilities and machines to create high quality packaging products. Best.
Accordingly, the machines we use include: 3-layer blowing machine, high-speed single-layer blowing machine, EVOH 5-layer blowing machine, roll cutting machine line, automatic garbage bag folding cutting machine, automatic printing machine. , split roll machine, high quality T-Shirt bag cutting machine, 5 layer Stretch Film Machine, …

Vipaco's packaging always strives to change to bring the best product quality to customers
The packaging fields Vipaco offers
During the past time, Vipaco has built a foothold in the thin film packaging field with a large network of customers spreading across the territory of Vietnam. Not only that, Vipaco's products are also welcomed in three major export markets in the world, namely the US, Japan, and Europe – the fastidious markets in terms of quality standards and principles of protecting a market.
And Vipaco is also proud to have provided inputs to a number of major customers such as Vingroup, Nem Fashion, Kinh Do Confectionery. There are also other brands choosing Vipaco "to send gold" such as Kinh Do Confectionery, JP Corelex VN, Trung Son, Mascot, Hung Dung Garment, Chemical 13, Horison Hotel, LiOA Company …
Products that make Vipaco's success today can be mentioned as:
☑️ Food packaging 👉 Long lasting fresh food
☑️ T Shirt Bags 👉 Convenient packaging solution at supermarkets
☑️ Biodegradable garbage bag 👉 Tough, durable, and environmentally friendly
☑️ PE shrink film👉 Smooth, smooth, tough, clear, super clear,
☑️ Agricultural film 👉 Super durable, outstanding quality
☑️ Pet cleaning bag 👉 European quality, super convenient
🤝 With the continuous efforts and efforts in recent years, Vipaco promises to further develop and bring products and services with the best quality to satisfy customers and deserve to be a reliable partner for customers.
Vipaco biodegradable bags meet European quality standards
Vipaco confidently affirms that its technological level as well as production capacity can meet the most stringent requirements of customers.
Vipaco Packaging: Producing "green" packaging – The future of environmentally friendly packaging
In addition to production and business activities, we are also a good implementer of environmental issues, reduce waste, ineffectiveness for the use of packaging and remuneration policies for employees. That is also the foundation of Vipaco's sustainable development during the past time.
With the determination of the Board of Directors and the collective of employees of the company, Vipaco will constantly rise to become a company with great influence in the packaging field not only domestically but also in Southeast Asia. We will continue to promote activities that contribute to environmental protection and minimization of emissions.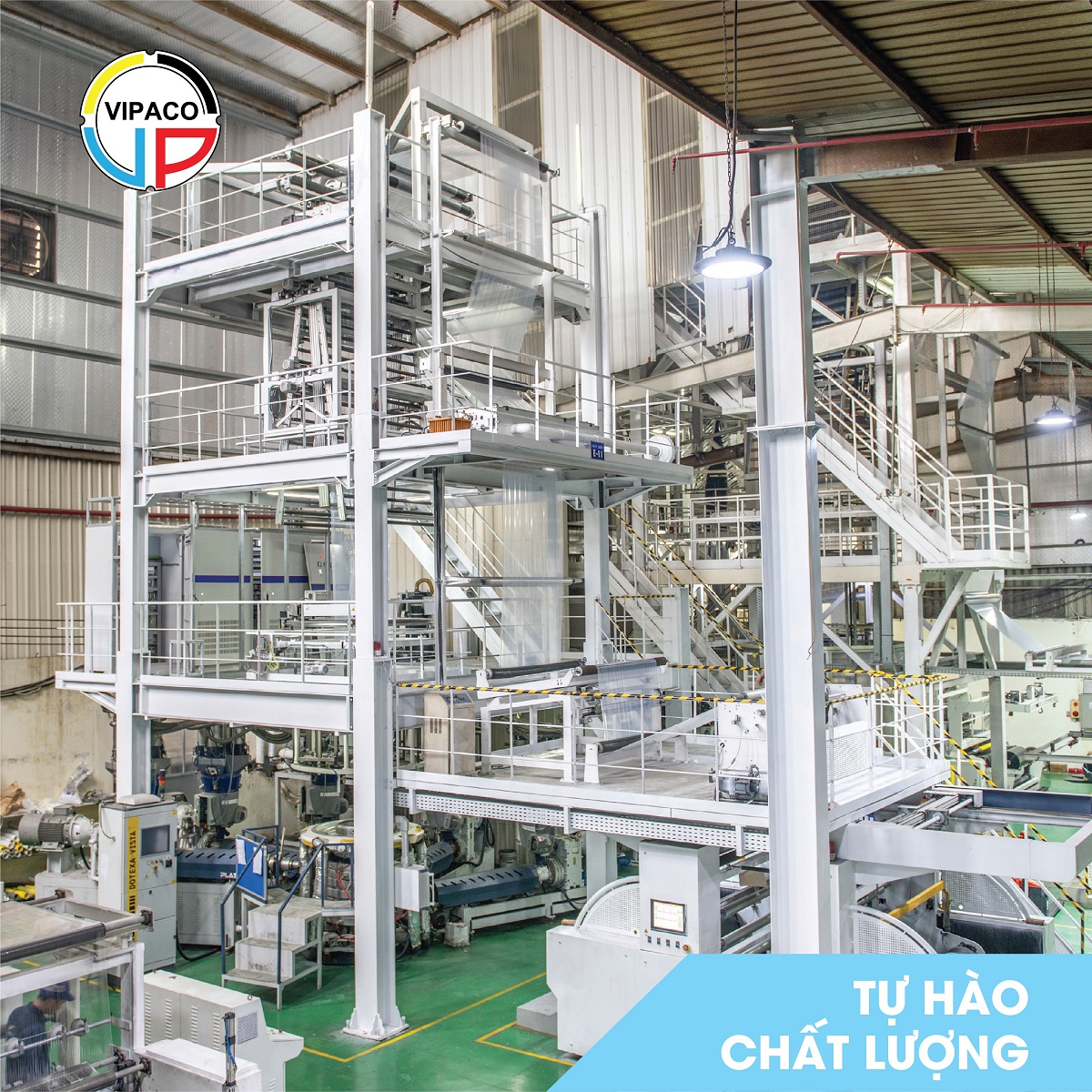 Production machinery is equipped with the most advanced types available today
Achievements:
Quality management system – ISO 9001;
Environmental management system – ISO 14001 standard
Energy management system – ISO 50001 standard
Social responsibility standard – Standard SA 8000
5S management standards
Vipaco Packaging Factory
If you are making money for a company producing the best price packaging in the North market with quality and reputable products, you probably have the answer through the article. With 15 years of experience in the industry, Vipaco packaging will and always try to promote to give your company the best service. These achievements are proof of Vipaco's sustainable development.
For any further information, please contact Vipaco on hotline 0221 376 7968. for support.
Viet Applied Investment For Packing Production Co., Ltd (Vipaco)
Address: D1 Road, Pho Noi A Industrial Park, Giai Pham Commune, Yen My District, Hung Yen Province
Fax: (+84.2213) 967.781
Email: vipacoltd@vipaco.vn