Packaging production is now interested by businesses, stores, agents, and so on, and considers it a way of advertising to affirm the brand as well as bring products closer to their customers.
In addition to the factors of quality products, diverse designs, packaging also plays an important role in whether customers decide to buy from the business or not. Packaging production is a wise choice and the right direction of businesses in the market. Packaging production is the most effective way to promote businesses.
Packaging plays an important role in the market economy
Are you cherishing to build a new brand or simply your business needs to change the packaging to upgrade the product? But you are wondering which address will help you produce quality packaging at a reasonable price? Finding a reputable and professional production partner is no longer a problem, Vipaco will help you create unique, creative but meaningful packaging samples on each product packaging.
Producing high quality packaging at Vipaco
As a reputable brand with 15 years of experience, Vipaco is proud to be one of the leading manufacturers of quality plastic packaging in Vietnam today. With a tireless and professional working spirit, Vipaco always aims to become the largest and most prestigious packaging company in the market, creating a solid position for the market in the domestic and international markets. economic.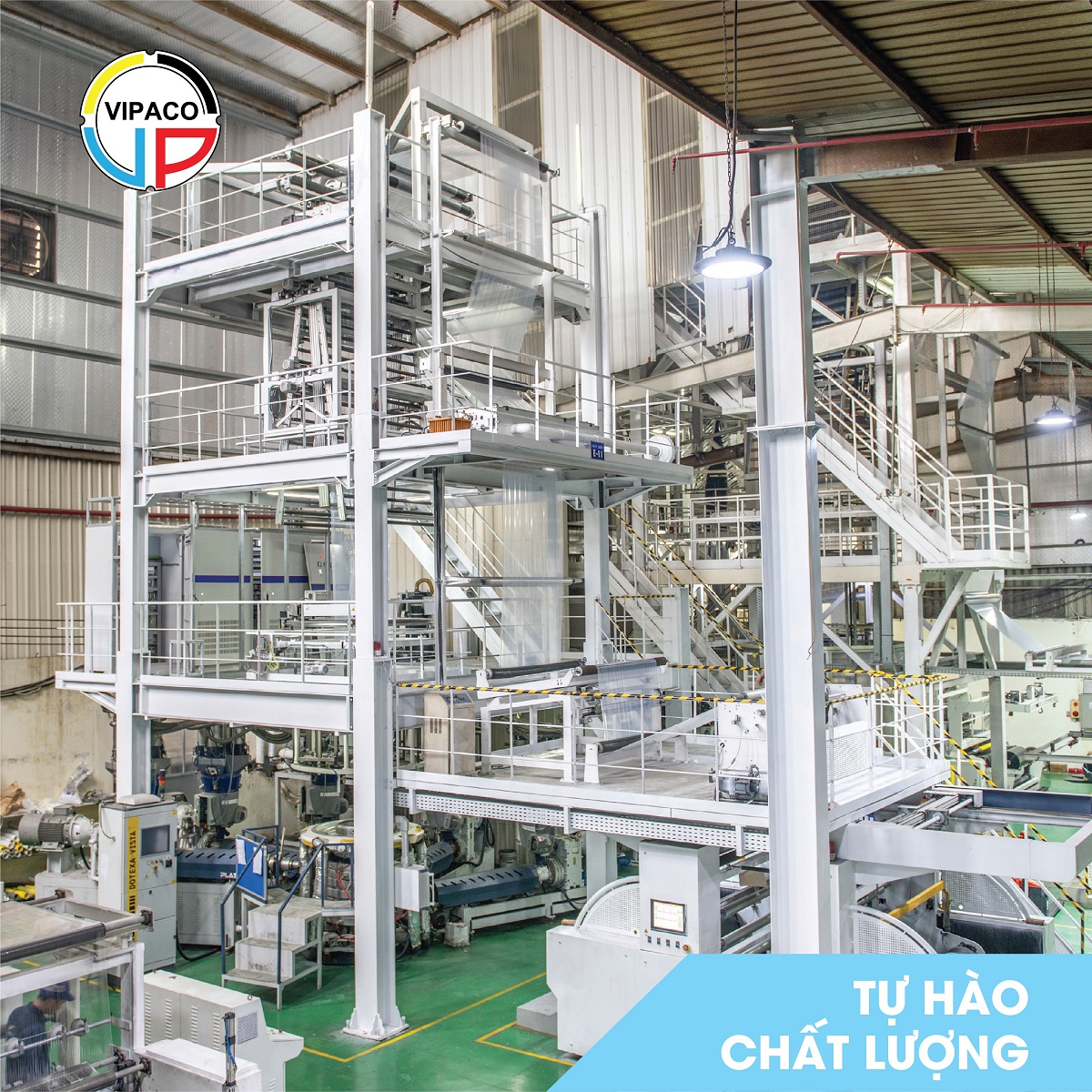 Modern machines and production lines
In order to ensure that the products reach customers with the best quality, Vipaco has continuously invested in modern machinery and production lines, and constantly updated the most advanced packaging production technology trends today. Today, giving customers the best experience of high-class packaging products, quality European standards.
The advanced machines that we own can be mentioned such as 3-layer blowing machine, high-speed single-layer blowing machine, EVOH 5-layer blowing machine, roll cutting machine line, automatic garbage bag folding cutting machine, automatic printing machine, roll dividing machine, high quality T-Shirt bag cutting machine line, 5-layer Stretch Film machine….guarantee the most stable productivity and product quality.
In particular, 100% of machines and production lines at Vipaco are imported directly from famous brands from Germany, Taiwan, Italy.
Three-layer ABC blowing machine imported from Europe at Vipaco's factory
Along with that, in each stage of production, our company always has a team specializing in monitoring and checking each stage to ensure the production of packaging meets European quality standards in order to gain the trust of customers. .
Large capacity factory
To be able to meet the packaging needs of domestic and foreign markets, Vipaco invested in building a system of factories with an area of ​​more than 25,000m2 with more than 500 skilled and experienced engineers. , for productivity 2200- 2500 Ton/Month.
In particular, Vipaco's input materials are completely imported from advanced countries such as the US, Singapore, Korea, Japan… At the same time, these raw materials must go through rigorous testing and have all certificates. certification ensures food safety and quality standards in the packaging industry. In addition, Vipaco also always reserves a stable source of goods to meet the needs of the market and the fluctuations of the world. As a result, Vipaco can continuously supply goods and ensure a price stabilization policy for customers within 6 months to 1 year.
Vipaco raw material warehouse is arranged according to 5S  standard
International certificate
Thanks to its persistent efforts, Vipaco has received many proud international certificates:
Quality management system- ISO 9001 standard;
Environmental management system- ISO 14001 standard
Energy management systems- ISO 50001 . standard
Social responsibility standard- SA 8000 . standard
Management Standard 5S
Technology, modern production lines, high quality human resources, large capacity factory, ensuring progress, if your business is looking for a quality packaging production unit, Vipaco is the main is the most appropriate choice. Contact us via Hotline 0221 376 7968. Our staff will be ready to answer your questions.
Viet Applied Investment For Packing Production Co., Ltd (Vipaco)
Address: D1 Road, Pho Noi A Industrial Park, Giai Pham Commune, Yen My District, Hung Yen Province
Fax: (+84.2213) 967.781
Email: vipacoltd@vipaco.vn