Plastic packaging developed from the inevitable human need to contain items and protect goods, has now become a "nightmare" for the natural environment. It can be said that finding the recycling capacity of packaging is one of the most urgent issues today, if we really want to save the earth from having to bear millions of tons of undigestible plastic waste. cancel.
In this article, Vipaco will provide you with information about recycling as well as what types of packaging can be recycled and how to safely and effectively recycle packaging.
Recyclability of packaging determines the success or failure of environmental protection
Classification of recyclables of plastic packaging 
Recycling packaging will be divided into 7 types, some will be recyclable, but some will be difficult to recycle because of the very high concentration of additives.
Type 1 plastic (PETE or PET), is food safe and very easy to recycle. This type will usually be soft drink bottles, box packaging, mouthwash bottles, etc.
Type 2 plastic packaging (HDPE), is opaque color, smooth surface, difficult to accumulate bacteria, less absorbent. Rated as the safest of all types, this type is usually packaging on milk cartons, cereal boxes, yogurts, etc., which is easy to recycle into pens, tables, chairs, fences, etc.
Type 3 is PVC, often used as food wraps, raincoats, medical equipment, etc. This low-cost packaging line contains many toxins, of course, few people use it for recycling.
Number 4 is LDPE, which is used to produce plastic packaging, squeezable bottles, food wrappers, etc. LDPE is considered safe for humans, but very difficult to recycle.
PP plastic is number 5, the product line is said to be the most environmentally friendly, because it is extremely easy to recycle. This type is usually water bottles, straws, medicine bottles, etc.
PS is number 6, which is disposable packaging. The product line when broken down is easy to harm the body because it contains many strong alkalis and acids. It is extremely difficult to recycle and has the most impact on the environment.
Number 7 is the packaging that carries other compounds, usually PC plastic, which is a type of plastic that is seriously harmful to human health.
Current packaging treatment and recycling methods
The recyclability of plastic packaging will help reduce the amount of waste that needs to be disposed of, while reducing the pressure on virgin plastic materials. In the process of plastic recycling, the end products can be substituted for virgin materials and will create significant economic and environmental benefits.
Plastic packaging recycling can be done in 3 main ways: Mechanical, chemical and thermal recycling.
Mechanical recycling
This can be considered a simple and common method used for most types of plastic waste. This method, a way to create new products from unaltered plastic waste, was established in 1970 and is still used today.
Much of the plastic waste recycled by this method is industrial plastic waste. Industrial plastic waste generated in the production, processing and distribution of plastic products is easy to recycle because of its low content of dirt and impurities.
There are many products that are recycled from industrial plastic waste such as children's play equipment, fences, benches, plastic packaging with low additive content, etc.
Chemical recycling
The monomerization method was the first in chemical recycling. This method restores the monomer through depolymerization. That is, it will chemically decompose waste PET plastic products, and then use them to re-produce those PET products. This is a recycling cycle, helping to reduce the extraction of other materials, which is extremely economical.
Chemical plastic recycling
The second is the method of recycling by iron and steel furnaces. As all plastic packaging, products made from plastic are made from petroleum and natural gas. So we can completely use them instead of coke as a reducing agent in iron smelters, this method is also known as Hydrochloride reduction, which has been certified by the Plastic Waste Management Institute.
Finally, there is gasification, which is a way of converting plastic into a gas for use as a raw material in the chemical industry. This method is currently being researched and developed in Japan, there are also a few factories in this country applied.
Heat recycling
It is a method of using plastic as the main fuel to recover energy, because plastic has extremely high heat efficiency. The energy value of plastic packaging is equivalent or greater than that of coal. Therefore, it is often used for heating purposes or running generators.
Vipaco – A company specializing in producing environmentally friendly packaging
It can be said that, with more than 15 years of experience in the packaging industry, Vipaco has succeeded in realizing the recyclable ability of packaging. The company has always limited the production of non-recyclable plastic packaging, instead seeking to develop environmentally friendly plastic packaging lines with the ability to self-destruct in a short time.
From there, it is possible to ensure the amount of packaging produced, there are always ways to recycle to make the most of it without affecting the environment. Vipaco's packaging products are manufactured according to safety standards and do not affect consumers' health.
Why should you choose Vipaco as a companion?
With more than 15 years of experience in the field, Vipaco Packaging can confidently support customers to promote their brand better with high quality and environmentally friendly packaging samples.
At Vipaco, we use modern production lines with: Electronic gravure printing machines, coating machines, solvent-free and solvent-free dry laminators, inspection machines, bag making machines, roll dividers, 3-layer, 5-layer blowers, etc. All of these machines are 100% new imported from Germany and operate under strict German and Japanese processes. Therefore, after 15 years of establishment and development, Vipaco has conquered 3 major export markets of Japan, USA and Europe.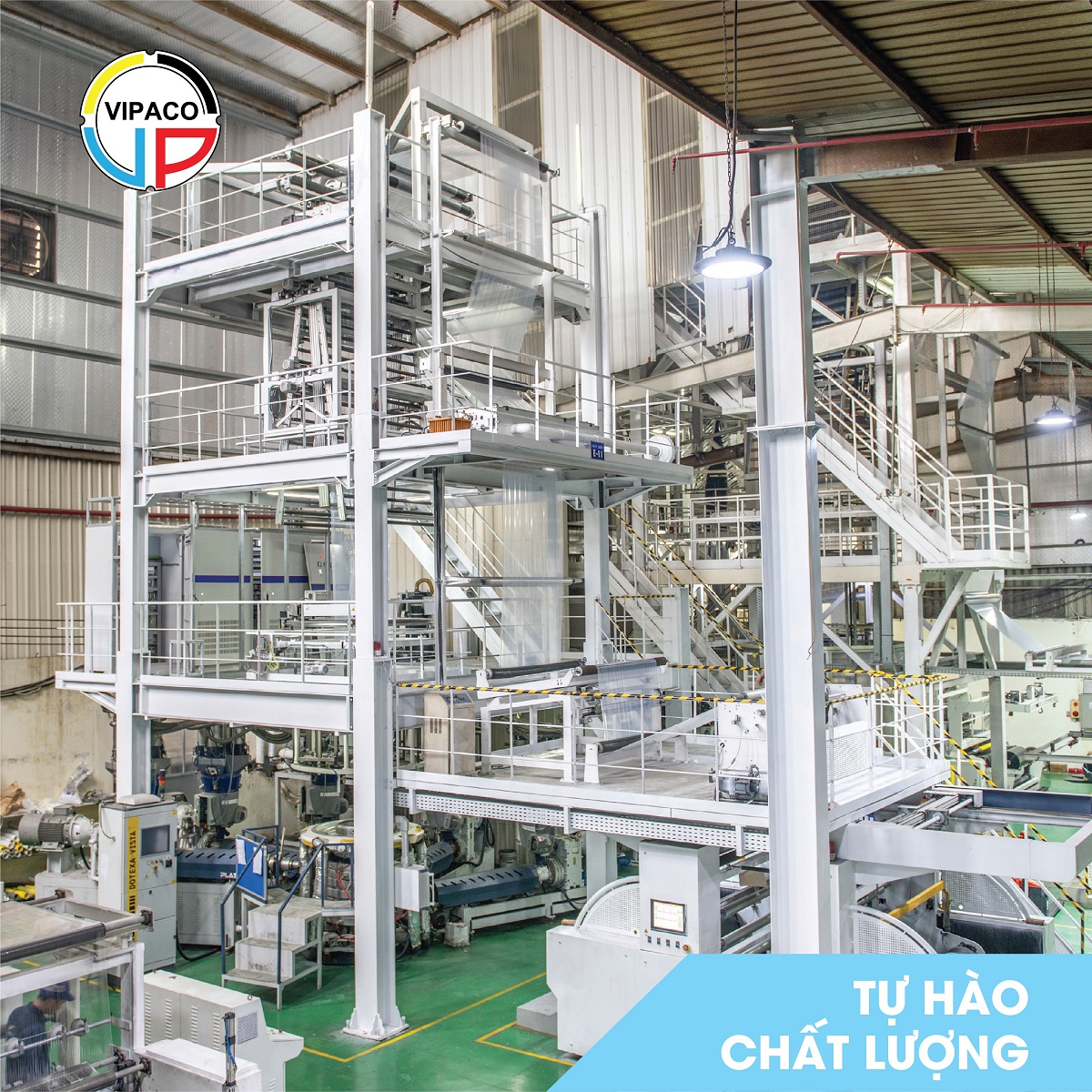 Vipaco always focuses on investing in production lines and technology
For a Vietnamese enterprise to bring products to export markets that are difficult to meet quality standards and strict regulations on environmental protection is not an easy thing, Vipaco's products are always tested. carefully in terms of quality, clear origin. Besides, what is especially important is the recognition of consumers.
Currently, grasping market trends with the rapid development of science and technology, Vipaco is increasingly trying to improve production lines, applying the most advanced technology to produce quality products. most to the consumer. This is considered a strong breakthrough not only for the brand but also to help improve the quality of finished products and bring users the most convenient products. And for sustainable and stable development, Vipaco has constantly researched and improved production capacity, especially focusing on core values, packaging solutions to maximize business efficiency and protect environment.
Proud milestones of Vipaco over the past 15 years:
Quality management system standard ISO9001
ISO14000 standard environmental management system
ISO 50001 standard energy management system
Social responsibility standard SA8000
Management Standard 5S
Packaging waste always seriously affects the environment. Therefore, the ability to recycle packaging is one of the important steps in determining the success of the current environmental protection campaign. Choose Vipaco- A brand that produces environmentally friendly packaging to join hands for a Green Earth. Contact Vipaco via hotline 0221 376 7968 for the fastest advice.