Black industrial garbage bags are the most commonly used bags today. They are used to store daily trash in homes, offices or at business units, etc. What are the characteristics of black PE garbage bags? Which type should I buy? You can refer to the article below.
1/ The current demand for black PE industrial waste bags
Whether it is household waste or in agencies, organizations, etc., we all need specialized garbage bags to store it. The amount of waste every day is a lot, so the demand for packaging designed specifically for garbage such as black PE industrial garbage bags is increasing day by day because they are large in size and can hold a lot of garbage. , sturdy and has the right shape to easily fit in the trash cans, making cleanup quicker.
2/ Features of black PE industrial garbage bags
Production materials
The main raw material to create industrial garbage bags is PE (polyethylene) plastic granules. In addition, during the production process, they are also added with some additives such as BBP, TOCP, lead and cadmium, etc. to create color, toughness and water resistance for the bag. In addition to the familiar black color, garbage bags are also produced in other colors such as red, blue, yellow, …
Common sizes
To meet the diverse needs of consumers and the size of the trash cans, black industrial waste bags are produced in many different sizes. Some common sizes are 440 x 560 mm, 550 x 650 mm, 640 x 780 mm, 900 x 1200 mm, 1200 x 1500 mm, etc.
Advantages of using black PE industrial garbage bags
– Produced in a variety of sizes, suitable for many types of trash cans- Thick, discreet, can be used to store all kinds of garbage
– The bag is strong, tough, hard to tear
– Suitable for use in families, buildings, parks, hospitals, hotels, restaurants, …
3/ What types of garbage bags are there?
Black garbage bags on the market are sold quite a lot, they usually come in two popular types: roll-on black garbage bags and garbage bags with handles.
Black PE garbage bags in rolls
This is the type commonly sold in supermarkets. The garbage bags will be produced in a compact form, when used, just tear each bag according to the available serration. They can be sold individually in rolls or packaged in 3 rolls/bag/kg. If the roll of the garbage bag is large, it is usually packed in 2 rolls/pack/kg.
Black PE garbage bags in rolls have a rectangular design, no handles or holes for carrying and are manufactured in the following sizes: 44x56cm (small black), 55x65cm (medium black), 64x78cm (big black) , 78x92cm (black extreme)
For the convenience of tying the mouth of the bag or for easy carrying, a garbage bag with a handle is also a popular choice. Garbage bags with handles are usually thicker and harder to tear than other bags.
Depending on your needs and preferences, you can choose the appropriate garbage bag design. When buying garbage bags, to avoid buying the wrong thing, you need to check that their size is suitable for the type of trash you are using. In addition, choose to buy black garbage bags with good plastic material, recyclable and environmentally friendly.
If you need to order garbage bags in bulk and need to use them regularly, find out and order directly from reputable packaging manufacturers and suppliers to get the best price.
4, Vipaco- Brand producing quality garbage bags, good price
There are many addresses that provide garbage bags, but not all of them meet the standards and quality as committed. Vipaco Packaging is one of the reputable companies, specializing in providing packaging products that are highly appreciated by customers.
Vipaco Packaging manufactures and brings to customers the products of food bags, freezer bags, drawstring garbage bags, agricultural mulch film, PE film, supermarket T-Shirt bags… for all users.
Product line of European quality standard drawstring garbage bags at Vipaco
In addition, coming to Vipaco Packaging, you also receive many great benefits such as:
Vipaco Packaging has 15 years of experience in the market
It is no coincidence that Vipaco Packaging has won the trust of customers so much. During 15 years of operation, we have constantly improved the quality of our products, expanded our scale and improved the skills of our employees. From there, create a firm foothold in the hearts of customers and prevail despite many emerging businesses.
15 years of our dedication and confidence in the quality of our products. Vipaco Packaging has been working with many different large and small partners. We understand the tastes and desires of our customers to improve our products more and more.
Check out some of the international certifications that Vipaco Packaging has received
Vipaco Packaging is always your reliable partner and gives customers the best value. In response to our efforts, we receive the attention and support of our customers. At the same time, the competent authorities also recognize what Vipaco Packaging brings. The most obvious proof is the international certifications:
Quality management system- ISO 9001 standard;
Environmental management system- ISO 14001 standard
Energy management systems- ISO 50001 standard
Social responsibility standard- SA 8000 standard
Management Standard 5S

Vipaco Environmental Management System meets international standard ISO 14001: 2015
Vipaco Quality Management System meets ISO 9001: 2015
Vipaco packaging factory with an area of ​​​​25,000m2 contributes and meets the increasing demand of the market
Advanced, modern machinery combined with modern technology
Vipaco Packaging not only improves the skills of employees but also invests in modern machinery to bring products with the best quality.
– 3-layer blower
– High speed single layer blower
– EVOH . 5-layer blower
– Roll cutting machine line
– Automatic garbage bag folding cutting machine
– Automatic printer
– Roll splitter
– High quality T-Shirt bag cutting machine line
– 5-layer Stretch Film machine….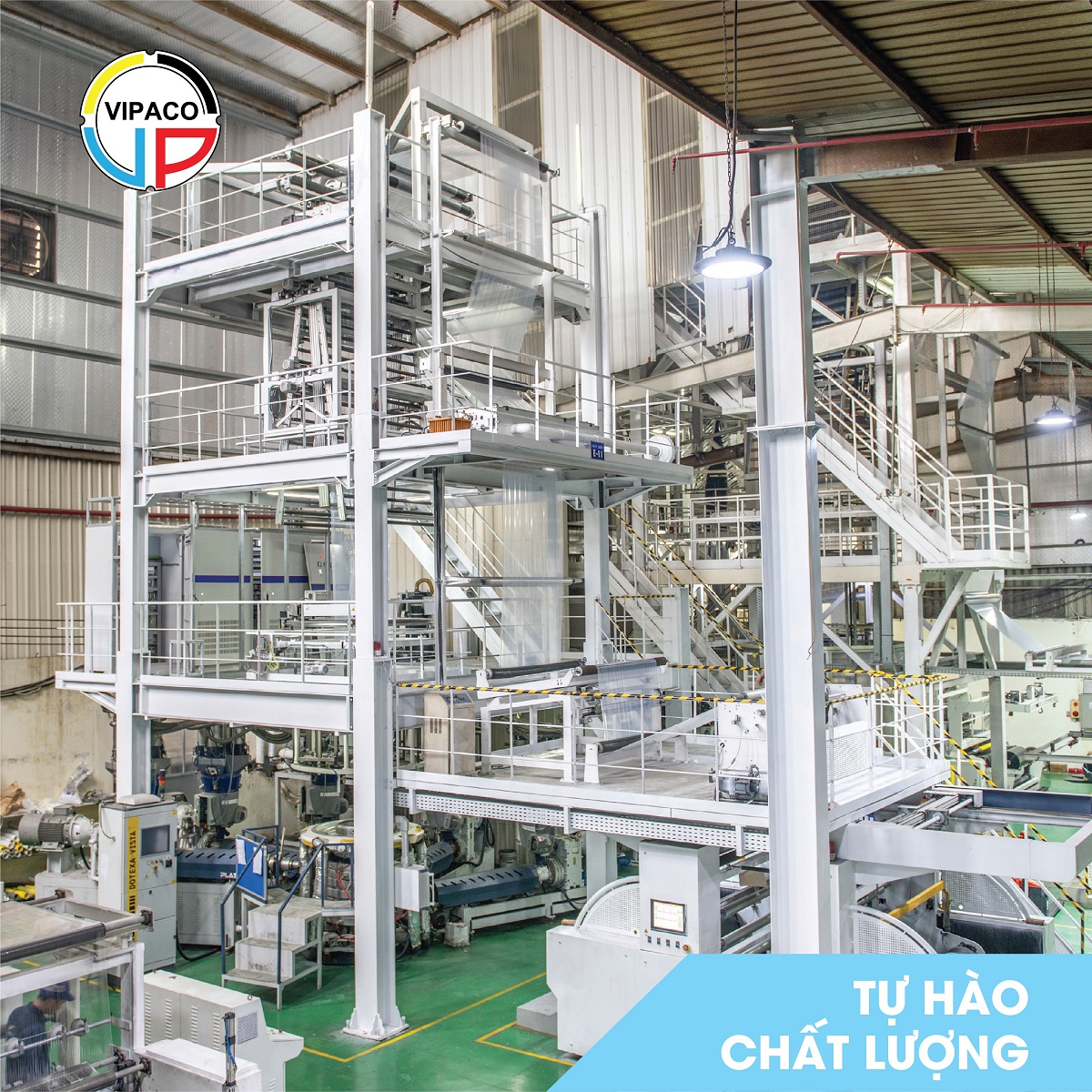 Production machinery is equipped with the most advanced types of Vipaco 
Thus, with the information, you have better understand the product and have yourself a reputable and quality garbage bag supplier to trust. Come to Vipaco Packaging to enjoy our best deals today.
Viet Applied Investment For Packing Production Co., Ltd (Vipaco)
Address: D1 Road, Pho Noi A Industrial Park, Giai Pham Commune, Yen My District, Hung Yen Province
Fax: (+84.2213) 967.781
Email: vipacoltd@vipaco.vn