Produced on modern machinery lines, no smell of plastic, no harmful chemicals, export standards, Vipaco waterproof membrane when appearing on the market always leads in quality, serving a variety of needs use by consumers and constructions.
Vipaco waterproof membrane has a thickness of 0.1mm to 3mm depending on the application and with the ability to withstand sun decay up to decades, that's why Vipaco waterproof membrane is popular and widely used on the market.
7 Outstanding features of Vipaco waterproof membrane:
High quality material, durable
Tough, sturdy, outstanding waterproof performance
Work pressure
Good mechanical strength and impact resistance
Low cost, low installation cost compared to other waterproof membranes
Wide application for many items
In particular, Vipaco waterproofing membranes are diverse in types and sizes to meet all needs for all projects to ensure safety and high durability.
Applications of geomembrane
The most commonly used waterproof membrane is to line the bottom of domestic and industrial landfills to prevent toxic substances and harmful substances that are difficult to decompose from landfills from seeping into underground water sources, causing harm to people's health. live near a landfill.
– Used to cover landfills to prevent rainwater, bacteria and odors from entering the surrounding environment.
– Waterproofing of landscape works: golf courses, landscape lakes in parks.
– Lining the bottom and roof of the pond for shrimp and fish farming: to create an ideal environment for the seed to develop well.
– Lining the bottom of industrial wastewater reservoirs such as slag factories, chemical plants, fertilizer plants: Depending on whether industrial wastewater has high or low corrosion, has many microorganisms or not… then the design use thick and thin HDPE waterproofing membrane, chemical resistance and antimicrobial resistance… to increase the life of the building.
– Lining and floating biogas tunnels in livestock farms: To line the bottom, you should choose a HDPE waterproofing membrane from 0.5mm to 1.0mm, preventing waste from looking into the groundwater from affecting domestic water sources. As for the above coating, it is recommended to use a 1.5mm to 2.0mm HDPE waterproofing membrane and have good UV resistance, because the membrane is affected by direct sunlight.
Choose a brand that provides quality waterproofing membranes – Choose Vipaco
There are many addresses that provide waterproofing membranes, but not all of them meet the standards and quality as committed. Vipaco Packaging is one of the reputable companies, specializing in providing quality packaging products that are highly appreciated by customers.
In addition, coming to Vipaco Packaging, you also receive many great benefits such as:
Vipaco Packaging has 15 years of experience in the market
It is no coincidence that Vipaco Packaging has won the trust of customers so much. During 15 years of operation, we have constantly improved the quality of our products, expanded our scale and improved the skills of our employees. From there, create a firm foothold in the hearts of customers and prevail despite many emerging businesses.
15 years of our dedication and confidence in the quality of our products. Vipaco Packaging has been working with many different large and small partners. We understand the tastes and desires of our customers to improve our products more and more.
Check out some of the international certifications that Vipaco Packaging has received
Vipaco Packaging is always your reliable partner and gives customers the best value. In response to our efforts, we receive the attention and support of our customers. At the same time, the competent authorities also recognize what Vipaco Packaging brings. The most obvious proof is the international certifications:
Quality management system standard ISO9001
ISO14000 standard environmental management system
ISO 50001 . standard energy management system
Social responsibility standard SA8000
Management Standard 5S
Advanced, modern machinery combined with high technology
Vipaco Packaging not only improves the skills of employees but also invests in modern machinery to bring products with the best quality. In particular, 100% of machinery and production lines at Vipaco are imported directly from famous brands from Germany, Taiwan, Italy and operate in accordance with strict production processes of Germany and Japan.
Some machines and equipment at Vipaco factory:
– High speed single layer blower
– EVOH 5-layer blower
– Roll cutting machine line
– Automatic garbage bag folding cutting machine
– Automatic printer 6 colors, 8 colors
– Roll Splitting Machine
– High-speed T-Shirt bag cutting machine line
– 5 Layers Stretch Film Machine….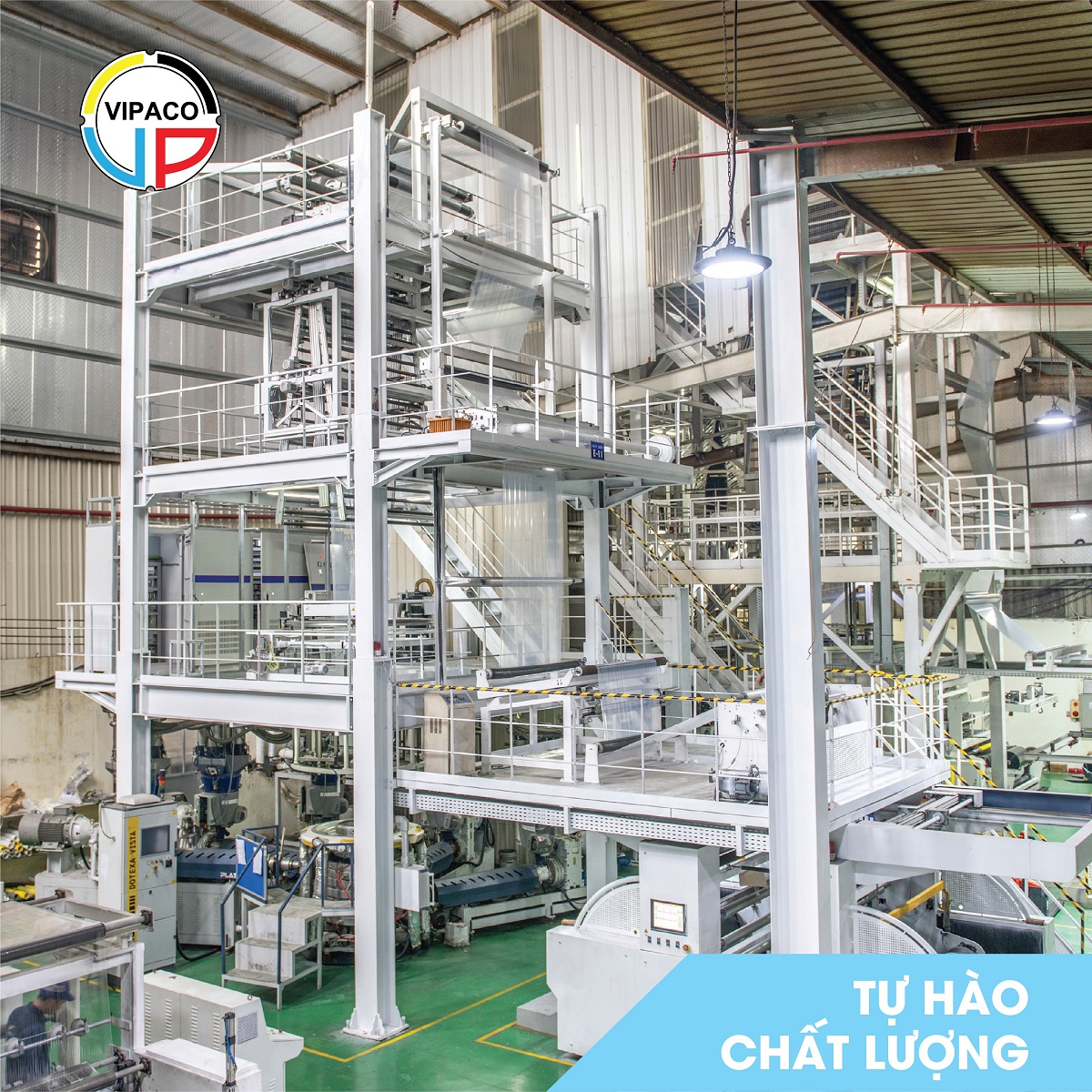 Production machinery is equipped with the most advanced types of Vipaco today
The scale of operations is expanded with high productivity
Currently, Vipaco Packaging is operating in 2 facilities with an area of ​​over 25,000m2 and achieving high productivity in the production of complex soft films and other products. As a result, customers will always receive the best products and on time.
At Vipaco Viet Packaging, quality and safety are our top priorities. Therefore, to protect the interests of our partners and consumers, we commit to:
Using qualified raw materials and complying with current regulations in the fields of agro-pharmaceuticals, food, pharmaceuticals…
Keep track of all raw materials used in packaging at each stage of production.
Always ensure an abundant supply
Best price, stable
Committed to fast and on-time delivery
Thus, with the above information about waterproofing membranes, you have a better understanding of the product and have a reputable and quality address to trust. Come to Vipaco Packaging to enjoy our best deals today.
Viet Applied Investment For Packing Production Co., Ltd (Vipaco)
Address: D1 Road, Pho Noi A Industrial Park, Giai Pham Commune, Yen My District, Hung Yen Province
Fax: (+84.2213) 967.781
Email: vipacoltd@vipaco.vn