Vipaco frozen food bags are currently a product chosen by many Vietnamese families to preserve food. This type of packaging not only protects the food inside from the effects of the external environment, but also contributes to environmental protection, keeping the full flavor of the food. Here are some reasons why Vipaco frozen bags are so popular.
It is a popular line of safe food bags
Not only Vietnam, developed countries around the world are also gradually turning towards environmentally friendly packaging products to protect the health of consumers and ensure environmental hygiene. Vipaco frozen food bags are manufactured from safe, biodegradable PE material with soft and flexible characteristics, easily degradable, and environmentally friendly. This is a factor that helps customers trust and rest assured to use the product.
Vipaco food bags have different sizes and capacities, suitable for preserving many different foods, from vegetables, meat, fish, fresh fruit to frozen seafood, confectionery, and dry food. deliciously fresh. Especially compared to other food bags on the market, Vipaco food bags have good heat resistance, can be used in refrigerators and freezers at temperatures up to -40 degrees Celsius without losing heat. water of food inside the bag.
                                                       Vipaco freezer bags help keep the fresh taste of food for a long time
Safe for consumers' health
Vipaco frozen bags are manufactured from PE material, which has been recognized as safe, ensuring food hygiene and ensuring the health of consumers. The sealed bag will help prevent the penetration of air and bacteria, helping to preserve the freshness of food for longer, keeping the full flavor of the food.
Outstanding advantages of Vipaco frozen food bags:
– Production on modern technology lines, European standards
– Keeps food fresher for longer
– High temperature resistance, suitable for use in both refrigerators & freezers
– Safe to use in the microwave
– Various sizes and capacities of 2L, 4L & 8L, suitable for preserving many different foods
Smart design with the bag body can write the date/month of storage, very convenient to determine the shelf life of the food to be preserved such as: the start date of the food, the product use time, the expiration date of the food product…
Vipaco Packaging – The number 1 quality frozen bag supplier today
If customers are wondering and do not know how to choose a frozen bag production address to meet their needs, please come to Vipaco Packaging today. With us, customers will receive countless great benefits such as:
Vipaco is confident with 15 years of experience
15 years of operation in the market and making an impression in the hearts of customers is the 15 years of effort and persistence of Vipaco Packaging. We always consider the customer as the owner and always want to bring customers absolute satisfaction.
Vipaco frozen bag product line is popular in the market
Although there are a series of companies specializing in the production of food bags sprang up, Vipaco Packaging still stands firm and receives the trust of customers. Simply by coming to Vipaco, customers can work with professional staff, comfortable working space, many attractive incentives and affordable prices.
In the future, we will be more and more creative, improve our skills, innovate production and technology to bring customers more perfect and quality products.
Vipaco is recognized with many international certifications
Vipaco has been honored to receive many certificates of merit, many international certificates affirming its prestige and standard brand. Specifically:
Quality management system standard ISO9001
ISO14000 standard environmental management system
ISO 50001 standard energy management system
Social responsibility standard SA8000
Management Standard 5S
Large scale production plant
Vipaco gives customers trust thanks to its reputation for product quality and on-time delivery. Not only has a dedicated and highly skilled staff, but Vipaco Packaging also operates on a large scale, modern production lines to meet the expectations of the number of products that customers require.
Currently, Vipaco Packaging is operating 2 factories with a total capacity of 2200- 2500 Tons/Month
Factory 1: Focusing on production for the domestic market- Scale of 5,600m2,
Factory 2: Focusing on production for export market- Scale of 15,000m2

Vipaco factory with an area of ​​25,000m2 contributes and meets the increasing demand of the market
Modern equipment, leading technology
We consider the joy and trust of customers as the motivation of Vipaco Packaging. Therefore, to create great products like today, Vipaco Packaging has invested in modern machinery combined with top quality packaging production technology.
Established in 2006 from a small-scale enterprise, focusing on production for the domestic market, but with the desire to bring Vietnamese brands to the international market, Vipaco has become a pioneer in the application of modern technology and Vietnam's packaging industry to create high quality products that meet European standards and are environmentally friendly. Therefore, 100% of Vipaco's machinery and production lines are imported from Europe, Italy, and Taiwan, in order to bring the best experience to consumers.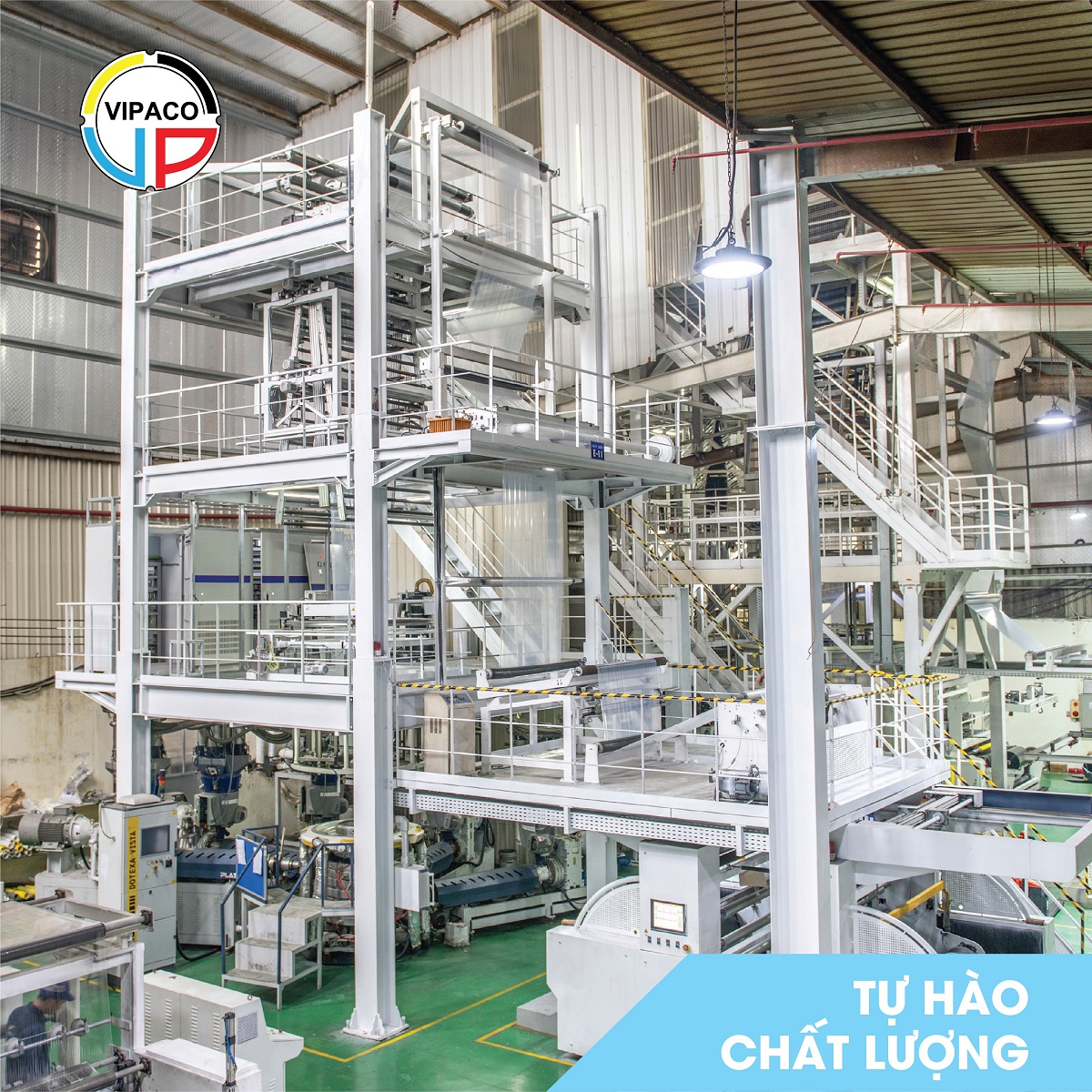 Vipaco always focuses on investing in machinery and technology lines
Some machines can be mentioned at Vipaco such as:
3 layer blower
High speed single layer blower
EVOH 5-layer blower
Roll cutting machine line
Automatic garbage bag cutting and folding machine
Automatic printer
Roll Splitting Machine
High quality T-Shirt bag cutting machine line
5 Layers Stretch Film Machine
3-layer, 5-layer blowing machine….
If customers want to know more information about Vipaco food bags and discover attractive offers at Vipaco Packaging, please contact us today. Our staff is ready to serve and answer all customer questions 24/7 via hotline 0221 376 7968.
Viet Applied Investment For Packing Production Co., Ltd (Vipaco)
Address: D1 Road, Pho Noi A Industrial Park, Giai Pham Commune, Yen My District, Hung Yen Province
Fax: (+84.2213) 967.781
Email: vipacoltd@vipaco.vn