Finding a reputable, long-term packaging supplier seems to be the top concern of packaging manufacturers or retailers. If you are looking for a distributor of quality packaging, good price, custom made products and attractive incentives for large orders, please contact Vipaco Packaging now!
1/ Vipaco Packaging – A company that directly manufactures and distributes prestigious packaging
With more than 15 years of establishment and development, Vipaco Packaging has been a reputable packaging supplier for many domestic production and business units. At the same time, it is also a large packaging distributor, providing a diverse source of goods for packaging agents or retail packaging traders.
Modern factory with an area of ​​25,000 m2, Vipaco's export standard
Vipaco builds trust for customers from consulting, product selection to satisfaction when receiving goods. Packaging products at Vipaco are diverse in design with competitive prices. Currently, Vipaco specializes in producing packaging products of food bags, frozen bags, drawstring garbage bags, utility garbage bags, zipper bags, tight films, PE films…
In order to bring the best quality packaging products, Vipaco invested in building a large factory system with an area of ​​over 25,000m2. Accompanied by the equipment of modern production lines and experienced staff, committed to bringing high quality and environmentally friendly products.
Vipaco always tries to bring customers trust and satisfaction when choosing our products and services!
2/ Distributing bulk plastic packaging on request
There are many packaging manufacturers and distributors on the market today, but to have good import prices and quality products, you should order directly at reputable and capable manufacturers. meet the needs of bulk packaging.
Currently, Vipaco is a distributor of bulk plastic packaging, wholesale packaging with unlimited regional scope. We accept wholesale orders with quantity from 500kg or more. In addition to the available packaging samples, Vipaco also supports consulting, designing and manufacturing packaging according to customers' requirements.
Because ordering directly, not through any intermediary, when ordering at Vipaco, customers will always get the best and most competitive prices. In particular, we will have preferential prices for bulk orders.
3/ Using modern technology lines, imported from Europe
The demand for printed packaging of businesses is increasing day by day, because beautiful packaging, full of information, brand logo will bring high marketing efficiency. To have beautiful printed packaging products, packaging manufacturers must invest in modern printing machines and technology.
With a prestigious brand position in the field of packaging production in Vietnam, Vipaco has constantly researched and invested in technology to improve production capacity. Vipaco continuously improves modern production lines to bring the best quality packaging products. These equipments can be mentioned as 3-layer blowing machine, high-speed single-layer blowing machine, EVOH 5-layer blowing machine, roll cutting machine line, automatic garbage bag folding cutting machine, automatic printing machine, and roll dividing machine. , high quality T-Shirt bag cutting machine line, 5-layer Stretch Film machine….guarantee the most stable productivity and product quality.
In particular, 100% of machinery and production lines at Vipaco are imported directly from famous brands from Germany, Taiwan, Italy and operate in accordance with strict production processes of Germany and Japan.
If you have a need to order bulk packaging, you can contact Vipaco for advice and support in designing suitable packaging samples.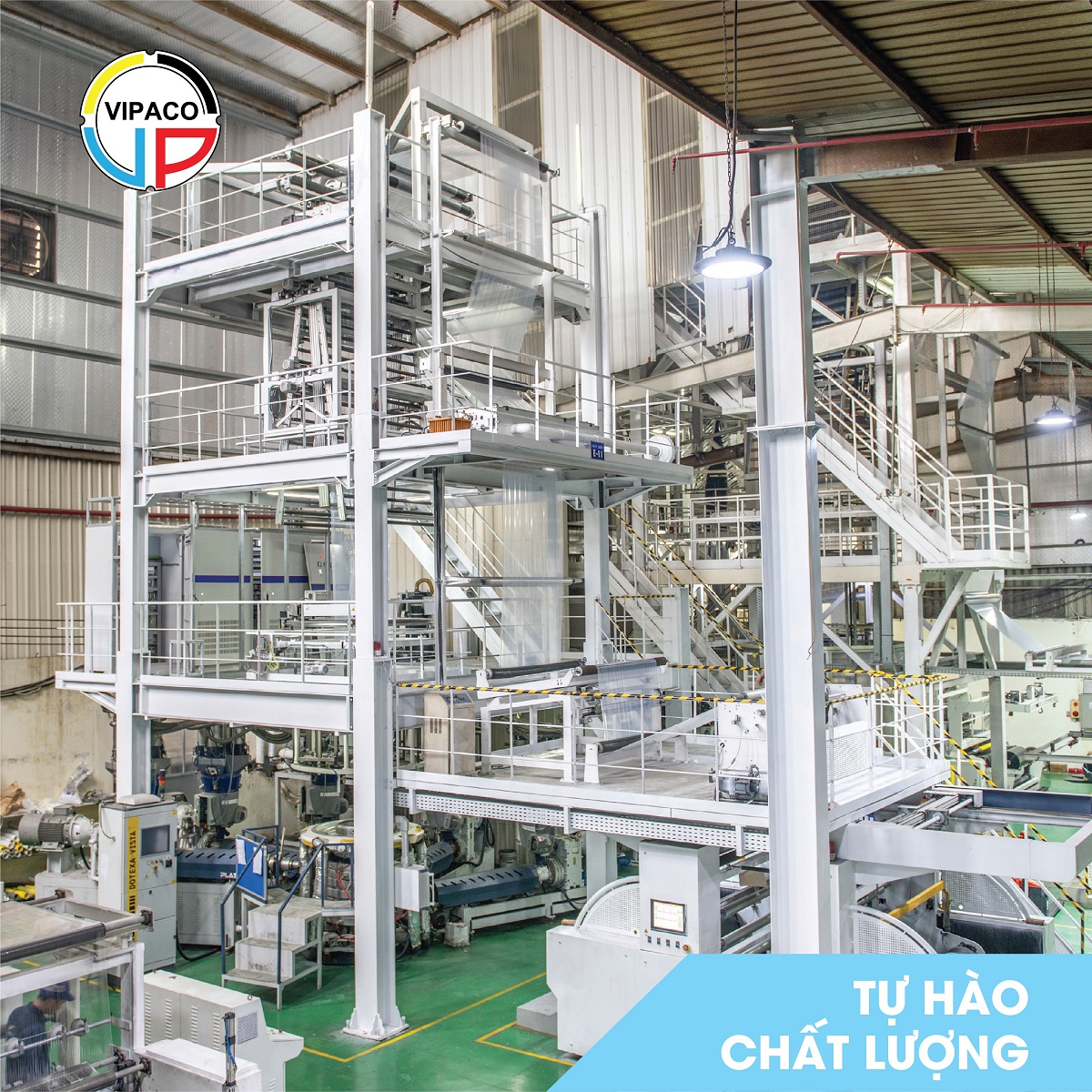 4/ What packaging samples can be ordered at Vipaco?
Depending on the purpose of use and the characteristics of the industry, the demand for packaging will be different. To meet the diverse needs of users, Vipaco manufactures and supplies packaging with many different designs and materials.
Regarding materials, we are currently manufacturing PE plastic packaging, biodegradable packaging. Using high-quality raw materials and modern production technology, Vipaco's packaging products aim to be safe to use and environmentally friendly.
In terms of design, Vipaco provides samples of food bags, frozen bags; drawstring garbage bags; zipper bags, tight films, etc. In addition to the available designs, with large orders, we also support design consultation and production according to customer requirements.
You can refer to some popular Vipaco packaging models on the market today:
Contact to become Vipaco's agent
If you are looking to become a packaging agent, please contact Vipaco immediately for advice, detailed instructions and the fastest quote. We invite you to take a look at our products:
Food bags
Frozen bag
Zipper bag
Drawstring garbage bag
Utility trash bag
Supermarket T-Shirt bag
Membrane
PE film
Agricultural mulch
Vipaco always has the best incentives and support for agents, helping agents to develop and do good business. Whether you are in the North or any other area in the country, you can still contact and become our packaging agent.
Vipaco will always be a reliable packaging distributor, ready to advise and support customers with the most enthusiasm and dedication. For more information, please contact us via:
Viet Applied Investment For Packing Production Co., Ltd (Vipaco)
Address: D1 Road, Pho Noi A Industrial Park, Giai Pham Commune, Yen My District, Hung Yen Province
Fax: (+84.2213) 967.781
Email: vipacoltd@vipaco.vn